News
Rep. Mike McCaul says the GOP needs to choose a new speaker "this week" amid the Israel crisis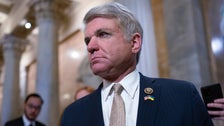 Rep. Mike McCaul (R-Texas), chairman of the House Foreign Affairs Committee, said Sunday the absence of an elected speaker sends a "terrible message" to U.S. rivals amid another post-Hamas crisis on the world stage -Attack on Israel.
"It was not my idea to oust the speaker," McCaul said. "I thought it was dangerous. I look at the world and all the threats that exist, and what kind of message are we sending to our opponents when we can't govern, when we're dysfunctional, when we don't even have a Speaker of the House? "
McCaul continued: "I think it sends a terrible message."
But the Texas Republican said it was essential for the GOP to act "quickly" now to select a new speaker.
"We need to elect a speaker this week so we can get things started like replenishing the Iron Cathedral," McCaul told CNN's Dana Bash, referring to Israel's missile defense system.
McCarthy, in an interview with Fox News On Saturday, he noted that the House of Representatives is paralyzed until a new person can be appointed to lead the chamber.
"The House can't do anything until it elects a speaker, and I don't know if that will happen quickly," McCarthy said. "The speaker is part of the 'Gang of 8' who is taking action to conduct a briefing."
The Senate is also taking a break this week.
So far, Reps. Jim Jordan (Ohio) and Steve Scalise (La.) have announced they are running for the post. McCaul noted that both were "strong" candidates, but did not endorse either of them. But he said he would like to avoid a spectacle like the 15 rounds of voting it took to make McCarthy speaker in January.
"I don't think any of us want to go through this again," McCaul said. "I think we are ready to unite as a conference, unite around one speaker and not allow this civil war… to disrupt the legislative process."