River City Saga: Three Kingdoms for Switch is due out in the west this July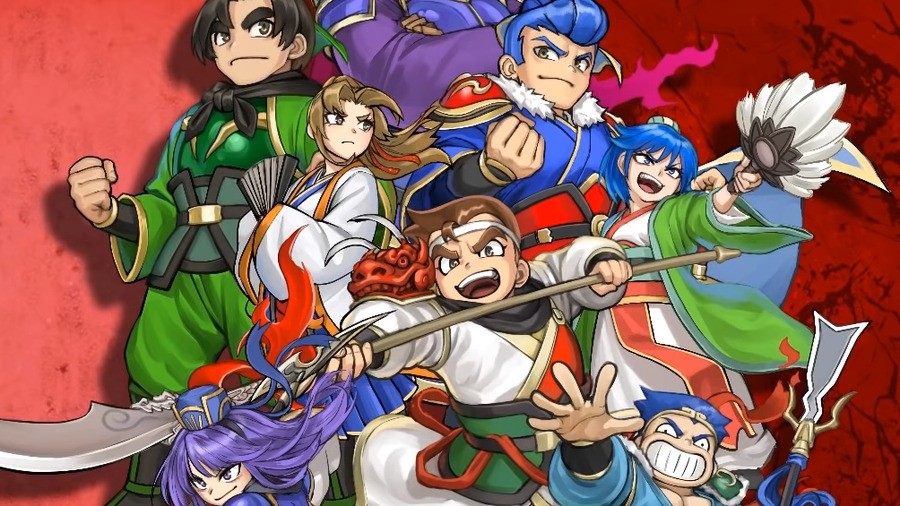 To update [Fri 29th Apr, 2022 04:00 BST]: Arc System Works and APlus Games have now confirmed River City Saga: Three Kingdoms will be released here in the west on Switch on July 21st for $29.99 (or your regional equivalent). Japan is also getting a physical version.
You can check out the announcement trailer above and the PR below:
Crazy and wild action! Kunio is wreaking havoc in the Three Kingdoms!
The characters from River City take to the stage of the Three Kingdoms to wreak havoc! This title takes on the concept of the popular Downtown Special: River City Historical Drama! Play and cross international borders to tell the story of the romance of the Three Kingdoms.

Watch the wacky and comedic action unfold as our hero Guan Yu (you may recognize him as Kunio) tries to survive the tumultuous times of the late Han Dynasty. The rest of the cast acts as generals, tacticians and more, giving the Three Kingdoms a River City twist! Enjoy a fun, action-packed take on famous historical events, from the Yellow Turban Rebellion to the Battle of Red Cliffs.
The beat 'em up action you know and love!
The gameplay focuses on the beat 'em up action that the series is known for. Intricately connected areas form a huge game world. Aside from the battle, you can shop in villages and towns. Go on a sightseeing tour and explore every nook and cranny!
Turn the tide of battle with flashy "tactical" moves!
Turn the tide of battle in your favor with flashy "tactical" moves! With these tactics you can influence all enemies on the screen. Their use in certain areas could even lead to discoveries such as hidden rooms or corridors…?
About Heroes of the Three Kingdoms: Battle of Red Cliffs In addition to the story mode, this title includes a local and online co-op mode for up to 4 players, Heroes of the Three Kingdoms: Battle of Red Cliffs. " Conquer a total of 10 stages where powerful bosses await you while sometimes cooperating and competing against others. There's a lot to delve into, from turning friendly fire on and off to finding hidden stages.
---
To update [Sat 27th Nov, 2021 02:00 GMT]: Following this week's 35th Kunio-kun celebrations, Arc System Works and APlus Games have now set a Japanese release date River City Saga: Three Kingdoms. It will be available on December 16 through the Nintendo Switch eShop for 3,740 yen.
Also revealed was a bonus mode that takes the form of a traditional belt scrolling action game with "simple controls and exciting combat." Players will defeat swarms of enemies followed by boss fights. It will also feature leaderboards, 10 tiers, and 12 playable characters (Source: Gematsu).
There's no word on localization, but if we hear anything we'll let you know. Here's the release date announcement trailer:
---
Original story [Tue 23rd Nov, 2021 05:30 GMT]: Later this week, on November 27th, the Kunio-kun series will celebrate its 35th anniversary. As part of this, there will be a special broadcast from Arc System Works on November 26th at 5:30pm JST.
It will take a look at the history of the series and reveal the latest information about the upcoming title River City Saga: Three Kingdoms and much more. You can watch it live on the Arc System Works YouTube channel.
As previously mentioned, the new Kunio-kun game is set in the Romance of the Three Kingdoms universe. You can learn more details about it in our previous post and see a teaser trailer below:
Are you excited to learn more about this upcoming release? Tell us in the comments.
https://www.nintendolife.com/news/2022/04/river-city-saga-three-kingdoms-for-switch-launches-this-july-in-the-west River City Saga: Three Kingdoms for Switch is due out in the west this July