News
RNC chairman sees 'great opportunity' for GOP candidates after Hamas attack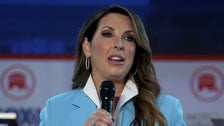 Republican National Committee Chairwoman Ronna McDaniel went on Fox News on Saturday to explain how Republican presidential candidates might respond to Hamas militants' unprecedented surprise attack on Israel.
"I think this is a great opportunity for our candidates to contrast the Republican position on Israel — again and again — and the weakness of Joe Biden," McDaniel said.
"And when America is weak, the world is less safe. We see this not only with the war in Ukraine and an emboldened China, but now also with the attack on Israel."
McDaniel's comments came after Hamas launched a multi-front attack on Israel, firing thousands of rockets from Gaza and leaving hundreds of people dead.
Right-wing figures also claimed this weekend that Iran used the money to support Hamas in its attack on Israel. Mediaite noted.
Jennifer Griffin, national security correspondent for Fox News told the network that the $6 billion associated with a Prisoner exchange The deal with Iran this year is "currently still held in a Qatari bank account under the supervision of the US Treasury Department."
Adrienne Watson, White House national security spokeswoman wrote in a social post that "not a single cent of these funds has been spent, and if it is spent, it can only be spent on things like food and medicine for the Iranian people."
McDaniel explained elsewhere in the interview that the attack "falls squarely on the shoulders of Joe Biden" and also noted "unexpected events" that could impact political campaigns.
"There's no question that Americans who feel more economically insecure at home – especially on the streets where crime is on the rise – are now saying, 'He's not just a failure at home, he's a failure when it comes to it.' about foreign policy and our politics "The country is less safe because we have such a weak leader in Joe Biden," said McDaniel.