Robert Page vows he won't rush into bringing David Brooks back into action in Wales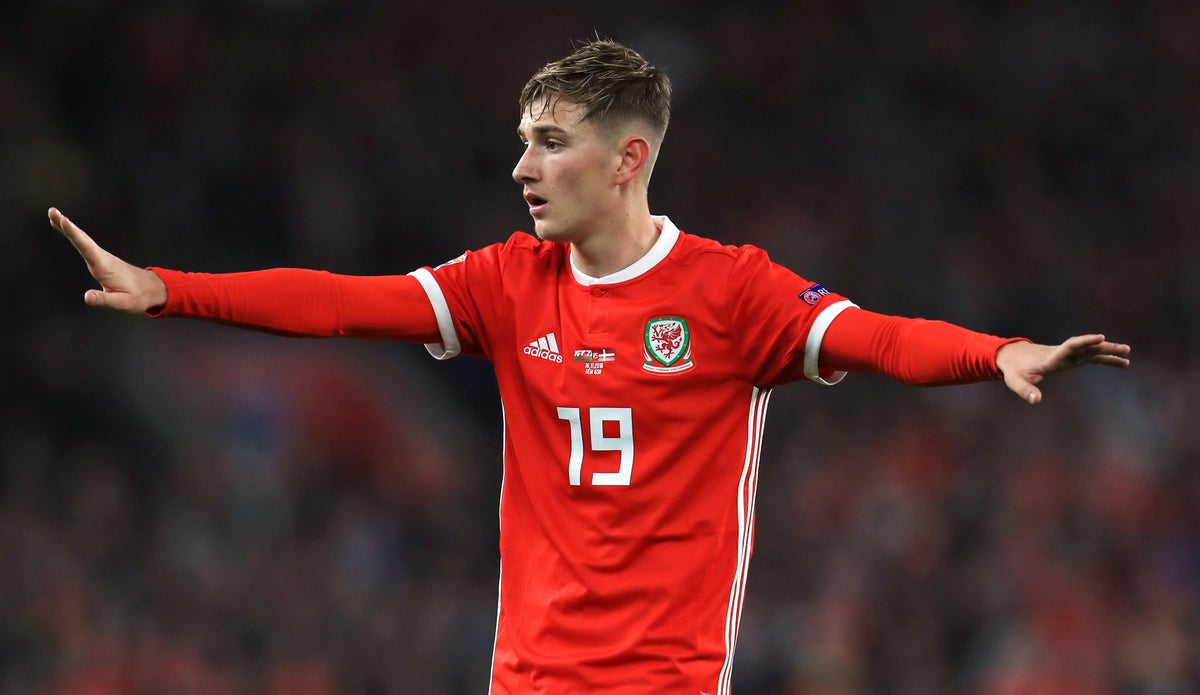 Wales manager Robert Page has left the World Cup door open for David Brooks after admitting he had watched the Bournemouth striker return to training after cancer left him emotional.
Brooks signed a new four-year deal with the Cherries this week, just 10 months after he was diagnosed with stage two Hodgkin lymphoma.
Bournemouth boss Scott Parker says Brooks is "certainly going in the right direction" ahead of November's World Cup in Qatar, although no timeframe has yet been set for his return to action.
"I've seen footage of him training and it's quite emotional to watch," said Page, who is himself close to signing a four-year deal with the Football Association of Wales as Ryan Giggs' permanent replacement.
"What he had to go through to get back to this level is unbelievable. I'm just so happy for him, so we want to take that pressure off him.
"We wouldn't push him back. We wouldn't do that to Bournemouth and we wouldn't do that to Brooksy.
"Bournemouth has been excellent throughout, how they have guided him from what he's been through from day one.
"To get him to the level of fitness he is at they have been personable and brilliant."
The 21-cap Brooks has not played since Bournemouth's draw at Peterborough on September 29 last year.
Brooks received his cancer diagnosis a few weeks later, but announced in May that he had been given the all-clear after completing his treatment.
The 25-year-old joined Page's squad in June as Wales qualified for their first World Cup since 1958.
Speaking on behalf of M&S Food's 'Eat Well, Play Well' campaign on Brooks' 26-man squad in Qatar, Page told the PA news agency: 'I don't want to put any pressure on him.
"He's definitely going to arrive, whether it's in September, at the World Cup or in March.
"He's part of what we're doing for Wales to move forward. Whether it's next week or in six months, we're giving him that time to get fully fit again.
"It's not a broken leg he's had to go through. It's something really meaningful and affects the whole body, not just a part of the body.
"It was nice to see what it means for Brooksy to play football again in the video."
Page also gave an update on Fulham's Harry Wilson, who picked up a knee injury last season and is expected to miss next month's Nations League games against Belgium and Poland.
"I asked Fulham if he'll be fit by September," Page said.
"Maybe that's a bit unrealistic, but I'm sure he will be fine for Qatar."
:: Robert Page partners with M&S Food's Eat Well, Play Well campaign, offering children the chance to win a training master class with the Welsh teams. Visit marksandspencer.com/football for more information.
https://www.independent.co.uk/sport/football/robert-page-david-brooks-bournemouth-wales-scott-parker-b2154269.html Robert Page vows he won't rush into bringing David Brooks back into action in Wales