News
Ron DeSantis uses a violent metaphor to describe the public service restructuring plan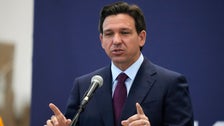 During his campaign in New Hampshire earlier this week, Florida Gov. Ron DeSantis (R) used a violent metaphor to describe his plans to reshape the federal bureaucracy.
The presidential candidate stressed his commitment to sacking federal bureaucrats and vowed to "start cutting throats from day one," according to a New Hampshire Public Radio report on his remarks to constituents in Rye, New Hampshire.
Under the DeSantis presidency, the Florida governor also said that Mexican drug cartels were being "shot in cold blood."
The American Federation of Government Employees, the largest union for federal employees, reacted with outrage to DeSantis' comments on Thursday, arguing that rhetoric of this kind helped fuel violent attacks against federal employees, such as the 1995 bombing of a federal building Oklahoma City.
"Governor DeSantis' threat to 'cut the throats' of federal employees is dangerous, heinous, shameful and disqualifying," said AFGE President Everett Kelley.
DeSantis' drastic comments about shaking up the federal government's workforce are part of a broader trend among Republican presidential candidates to demonize the nation's workforce more than two million federal officials.
Republican presidential candidates increasingly characterize the federal workforce as a predominantly liberal bastion of unelected power whose control of the "deep state" allows them to stymie conservative politics and pursue Republican politicians.
Presidents have long had the power to fire and reappoint a small group of political officials at the highest echelons of the federal government. But former President Donald Trump Has suggested Expanding this privilege so that the President would have direct power to fire approximately 50,000 federal employees who currently enjoy civil service protections designed to protect them from political retaliation. "The deep state must and will be brought under control," Trump said at a rally in March 2022.
Trump's plan has triggered an alarm among advocates of government transparency and ethics, who fear his proposal would jeopardize the independence of the civil service and potentially turn it into a crude patronage operation.