Sack Steve Cooper: As brutally unfair as it may be, the Nottingham Forest boss is on the verge of being eliminated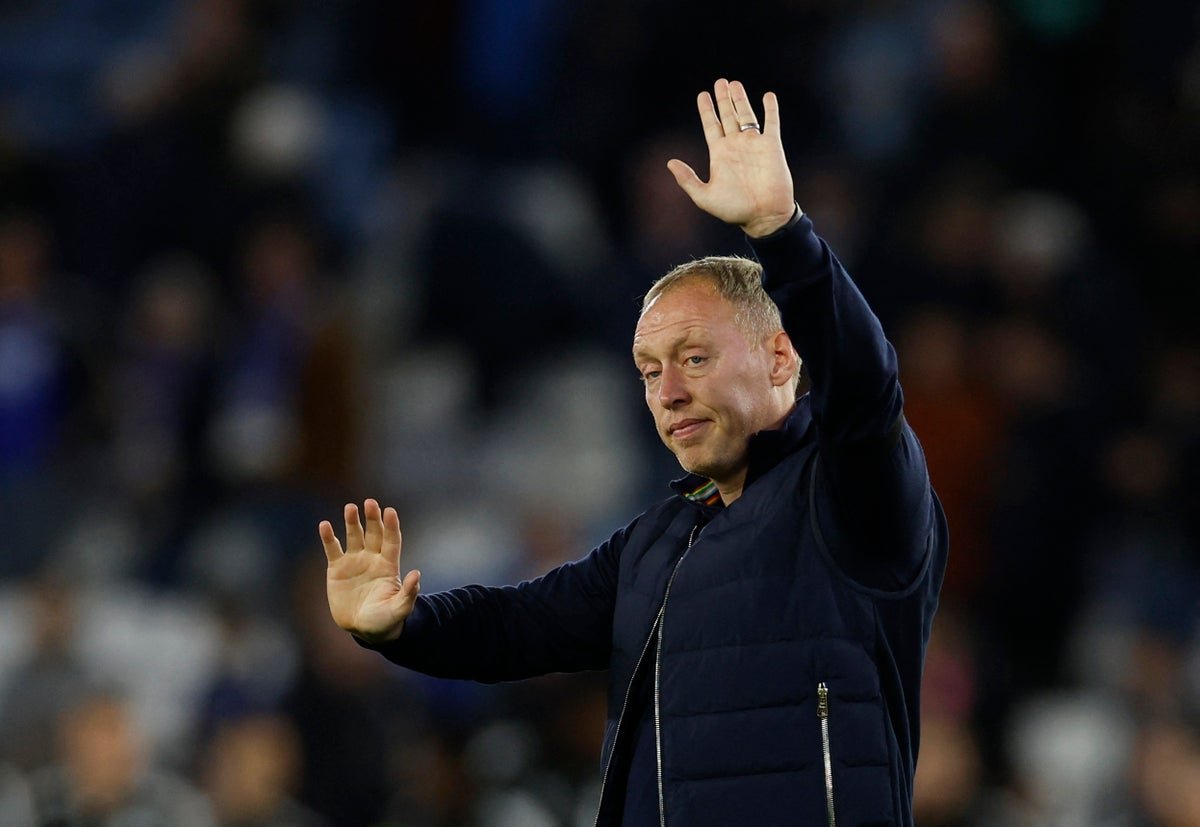 Turns out Steve Cooper couldn't even win the sack race in the Midlands. Leicester City vs Nottingham Forest had the atmosphere of El Sackico, the shootout to dodge the firing squad, but with the stealth of a man who often went unnoticed, Bruno Lage managed to collect his P45 before Brendan Rodgers or Cooper did.
A reprieve for Rodgers thanks to a 4-0 loss could take on definitive proportions for Cooper, more because of the climate surrounding Forest than the crime of propping up the front flight. Cooper's dejected reaction gave the impression he feared the worst. Taking Forest from the foot of the Championship to the foot of the Premier League is still a feat of alchemy, something fans recognized from his name, but his employer's interpretation could be that he brought his golden touch to a five-game losing streak in lost episode.
Forest's trigger-happy owner Evangelos Marinakis could have the dubious honor of sacking both managers from last season's play-off final within weeks; He sacked Carlos Corberan after just 11 games at Olympiakos. The revolving doors in the Marinakis empire aren't limited to the offices of their respective managers and after making 22 signings for around £150million, Forest could be heading for their most expensive relegation ever.
But playing football manager in real life feels problematic for real football managers. Cooper doesn't know his strongest point; on the other hand, neither does anyone else. Cooper's decision-making has been feeling flawed lately, but realistically, who could step in and put together a compelling team from this collection of strangers? At first it seemed like he would. Forest showed real promise in the win over West Ham, although his goal seemed to lead an enchanting life, and in the draw at Everton. Since then, they have declined alarmingly.
An oversupply of signings has made continuity difficult. Cooper deviated from a formula that was successful. In Leicester, for the first time this season, a proponent of 3-4-1-2 or 3-4-2-1 started with a back four. Forest conceded two goals in as many minutes of the first half and three in eleven; Having let in three in six minutes against Fulham and two in 12 against Bournemouth, it hints at a fragility. Perhaps, however, it is unrealistic to expect newcomers to have the organization and spirit to deal with setbacks.
Scoring three goals from distance was a poor reflection of Dean Henderson, but by and large the keeper isn't the main reason Forest has a soft stomach. Central defense is the weakest section of this team; Perhaps one of those 22 signings is a top-flight centre-back, but if it is, it's the injured Moussa Niakhate. In his absence, championship-caliber players have been found to leave a lot to be desired. Joe Worrall may wonder why he was dropped while favoring Steve Cook and Scott McKenna; Given his numerous and often spectacular handball skills, one is tempted to think Cook is a better goalkeeper than a defender.
Some of the expenses were not appropriately allocated; sometimes the multiple additions indicated that the club and manager were each compiling their shopping list. There is little evidence that Cooper sought or reviewed Giulian Biancone, Serge Aurier, or Emmanuel Dennis and perhaps not Remo Freuler, despite his considerable pedigree; Aurier, Freuler and Dennis all featured at Leicester but only after the damage was done.
Forest have overcomplicated things with court congestion and a fourth starting combination from central midfield in as many games which has been a sign of confusion. Neither Cheikhou Kouyate nor Lewis O'Brien survived the second half. Everyone was overworked; The most offensive team Cooper named this season was a product of desperation rather than inspiration.
It was the first time he formed the quartet consisting of Jesse Lingard, Morgan Gibbs-White, Brennan Johnson and Taiwo Awoniyi together. While hitting the post after a move involving Lingard and Gibbs-White, Awoniyi seemed like he was playing and going against his beliefs by being inundated with forward-thinking players. Attack didn't prove to be the best form of defence: Lingard has been a huge disappointment this season and his half-hearted clearance led to James Maddison's opener. Gibbs-White was part of the five-man investigation into the third goal; having some of them pointing in different directions looked sadly symbolic.
Forest's 23-year wait to return to the top flight and their glorious past added romance and meaning to the rise; Their spending ensured that the limelight lingered on them. Perhaps new signings like Renan Lodi, Freuler and Lingard were sold a dream top-half finish. However, the reality is that the playoff winners always enter the division as the officially worst team, having accumulated fewer points than the other two promoted teams.
Pick a combined side from East Midlands rivals and apart from Henderson, Forest may not be represented. In that sense, defeat at Leicester, albeit a winless Leicester, was only to be expected. It was actually more devastating to lose leads against Bournemouth and Fulham in what were, on paper, their easiest games of the season. The seeds of Cooper's probable death may have been sown then.
The simple joke is to suggest Forest can make another 22 signings in January. It is all the more likely that the manager who ended his long exile in the lower leagues will be dismissed at the next change. As brutally unfair as it would be, Cooper's race could be run.
https://www.independent.co.uk/sport/football/steve-cooper-nottingham-forest-sack-leicester-b2194340.html Sack Steve Cooper: As brutally unfair as it may be, the Nottingham Forest boss is on the verge of being eliminated