Sea of ​​Thieves Beneath the Surface: How Griefers That Bullied Me for Hours Became My Best Hearties
If you think about it, we have no right to be upset if someone takes our loot Sea of ​​Thieves. That means putting yourself on the same level as the people who apply to appear on the TV show Ex on the Beach, and then blasting yourself when your ex shows up.
However, there is one incident on the high seas – those incredibly beautiful, rolling seas of Rare's creation – that will stay with me forever. It captures everything brilliant and every horrible facet of the game at once. And it begins, as stories from the pirate MMO so often do, with a figure on the horizon.
"Could be players," says our navigator, using his binoculars while for some reason dangling from the bowsprit over the ocean instead of up in the crow's nest. "Don't think they're coming our way, though."
We decide as a group to keep going, either through vocal affirmation or just not stopping banging the damn drum the whole time. We're making a vault for the gold collectors – one of the most lucrative adventures out there. First, you embark on the sort of irritatingly drawn-out wild goose hunt that Rare mistakenly believes is an essential part of any treasure hunt, then emerge at a massive vault and tumble gold, trinkets, and chests out of the doors and onto your ship before the doors close, leaving you stuck inside like an inept crystal maze contestant. It will bring us many thousands of gold pieces. It's worth risking a few dalliances with other players for this.
"The ship is back," says our navigator more than an hour and many nautical miles later. Looks like it's trying to hide behind those rocks."
At this point we start bricking it. We've had quite a few sailing lessons, but ship-to-ship combat has never been a forte of this group. Instead, we prefer affirmative words about each other's outfits and bounce up and down to the beat of someone's hurdy-gurdy.
We flee, full sail ahead, damn the objective compass. And we think we lost her. Then: "Hello."
It's an alien voice coming through game chat rather than our Discord. Someone is on our ship. "Hello folks."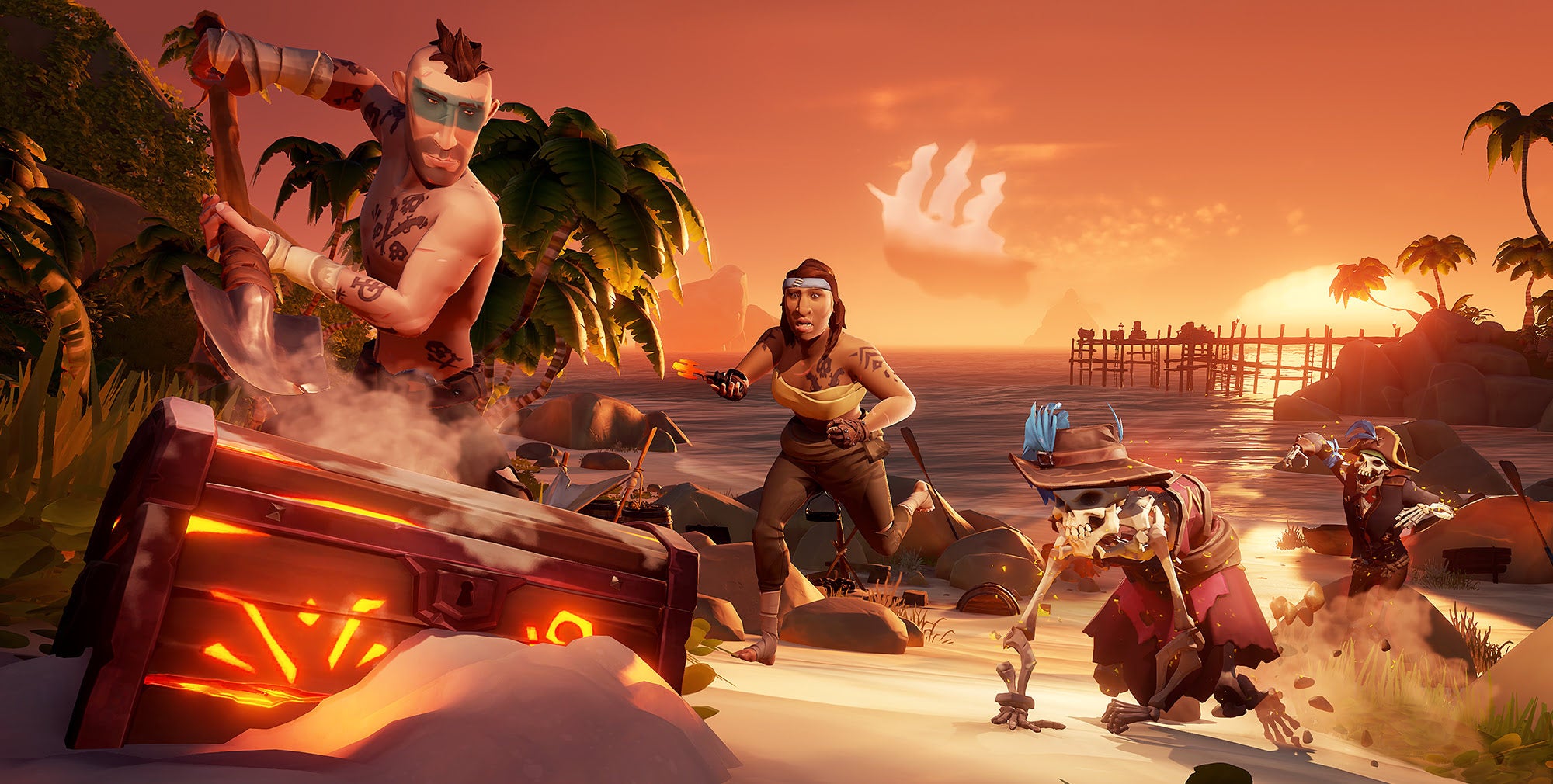 You know that feeling when you can just tell someone they're having at least seven times more fun than you are, at your exact expense? That. This guy is full of it. He doesn't say hello, not really. He says 'I'm on your boat and you can't find me'. He's absolutely right.
The four of us draw our swords and search the whole galleon, every deck. There's no treasure on board yet, we haven't even made it to the vault yet, but we can't let an intruder follow us there, can we? They'll just sink us or steal everything as soon as we bring it on board. We find exactly nothing between banana barrels and cannonballs in player size. No beep from our guest.
Time goes by. We agree that having made it this far, we might as well go to the vault. Maybe he was under the ship and swimming away.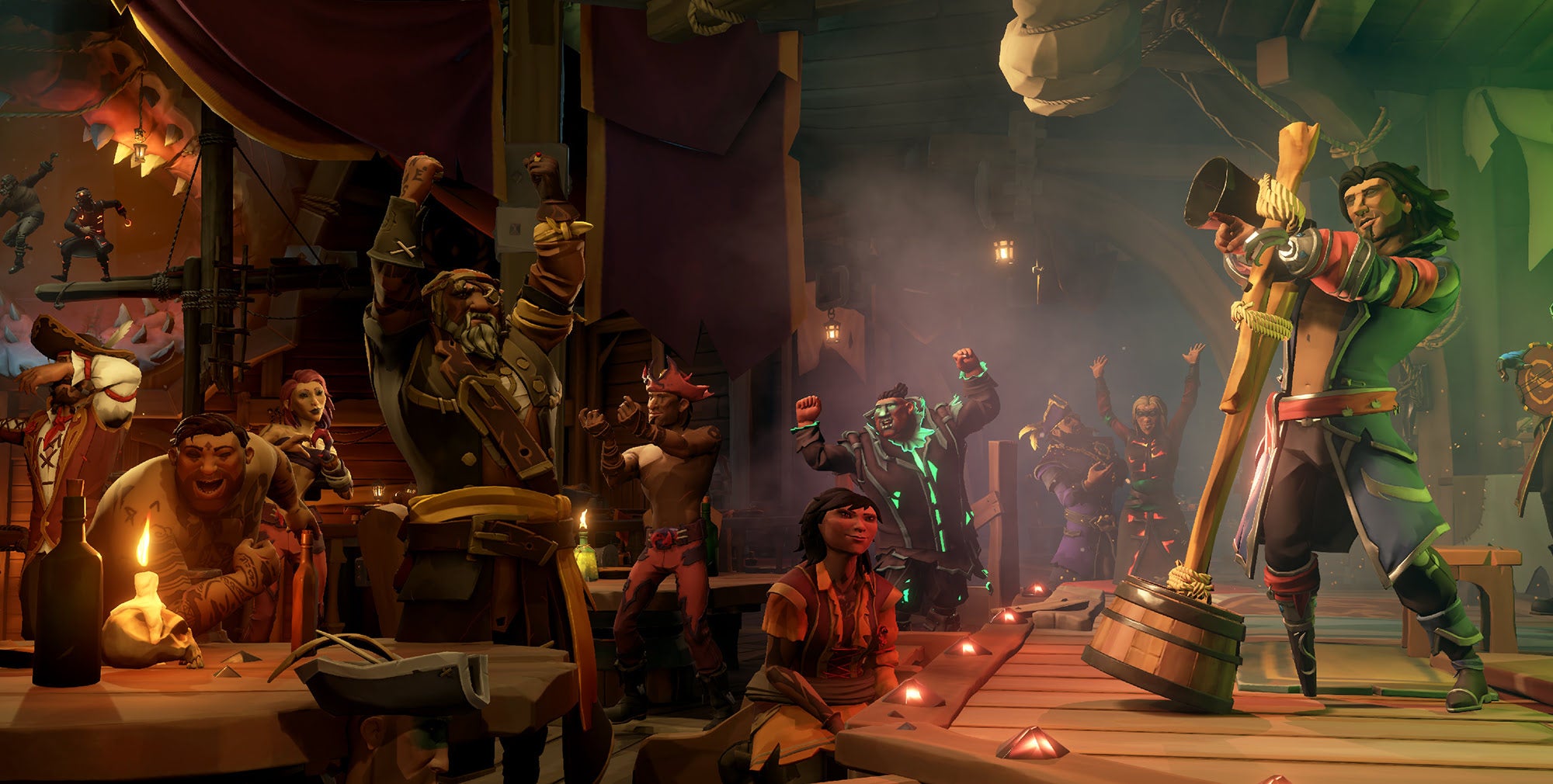 We reach the vault, open its heavy stone doors, drool profusely at the gold piled within, and begin the dizzying quest to dig it all out before the timer runs out. I've already mentally spent a lot of it on new jackets and tattoos on the mainland. I can barely wait for it. We've basically forgotten our smug intruder, and while one of us mans the helm and navigates back to port, the others whip out our instruments and can-can hop around the deck.
"Hi guys. Remember me?"
A few seconds later one of us fell to the ground. "What happened?" I ask, only to be met with confusion and panic. We'll be overrun within seconds. There's an explosion on board. I'm down I can see the enemy ship that was chasing us about three hours ago, coming into view just before I head for that damn soul shuttle.
Normally at this point we might give up, cut our losses and spawn another ship. But the darling. All the treasures piled high on our now slightly burning, slightly sinking, mostly crewed ship. We respawn again and continue the fight.
And we think we dumped them too. The only one visible on the deck is pierced by our sabers, we plug the gap below and scoop out the water. She's being held together with nails and boards, but she's still seaworthy, so let's get her to steer hard for the next friendly island.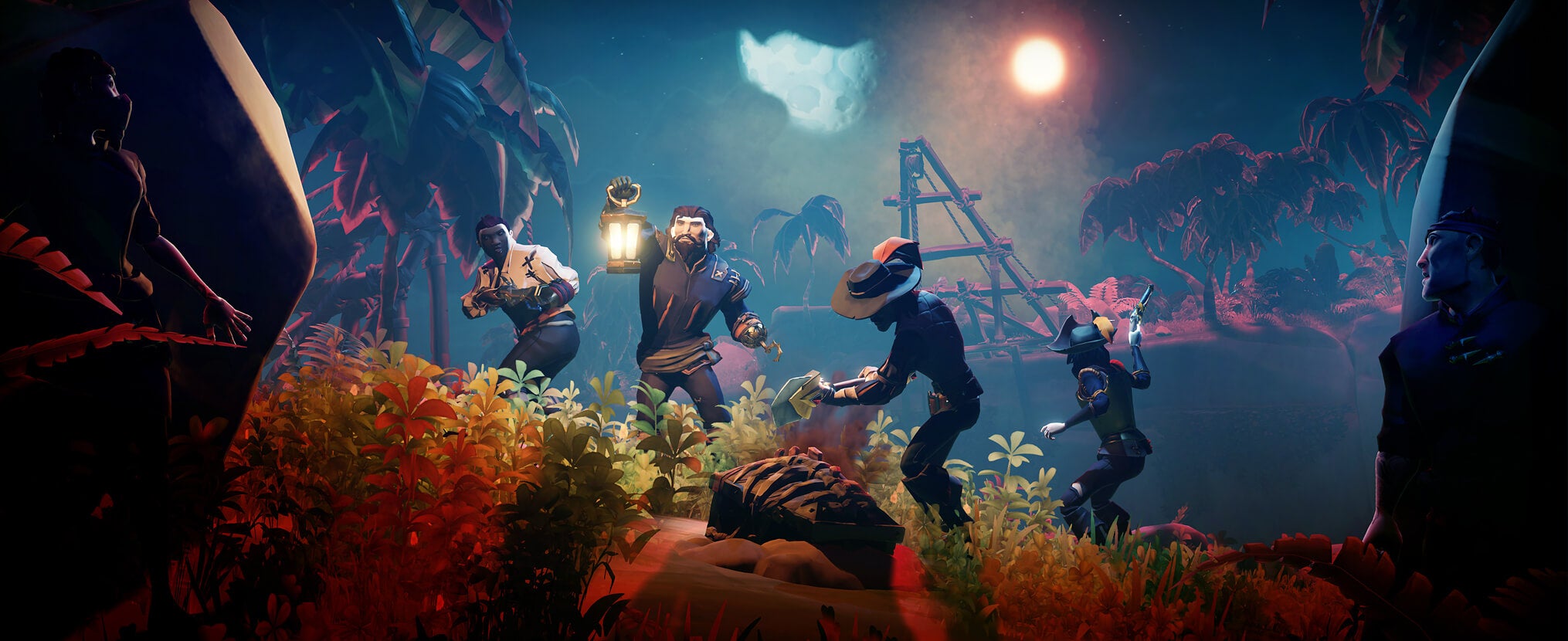 And then, just a few meters from the dock, the enemy crew (which was actually on board the whole time) kills us again and very efficiently sells all our treasures while we are still in sight. I can literally see one of them angrily running a box towards a vendor from the shore where I swim.
Everyone else in my crew is leaving except me. They're understandably broken, mumbling things like, "Well, if they just do that…" and then fall silent. I just stand by the ship not sure what to do next or how to turn around this Sunday night after such an ordeal.
At this point, my tormentors invite me on board and assure me they will not harm me. I've got nothing to lose now, so I'm doing it.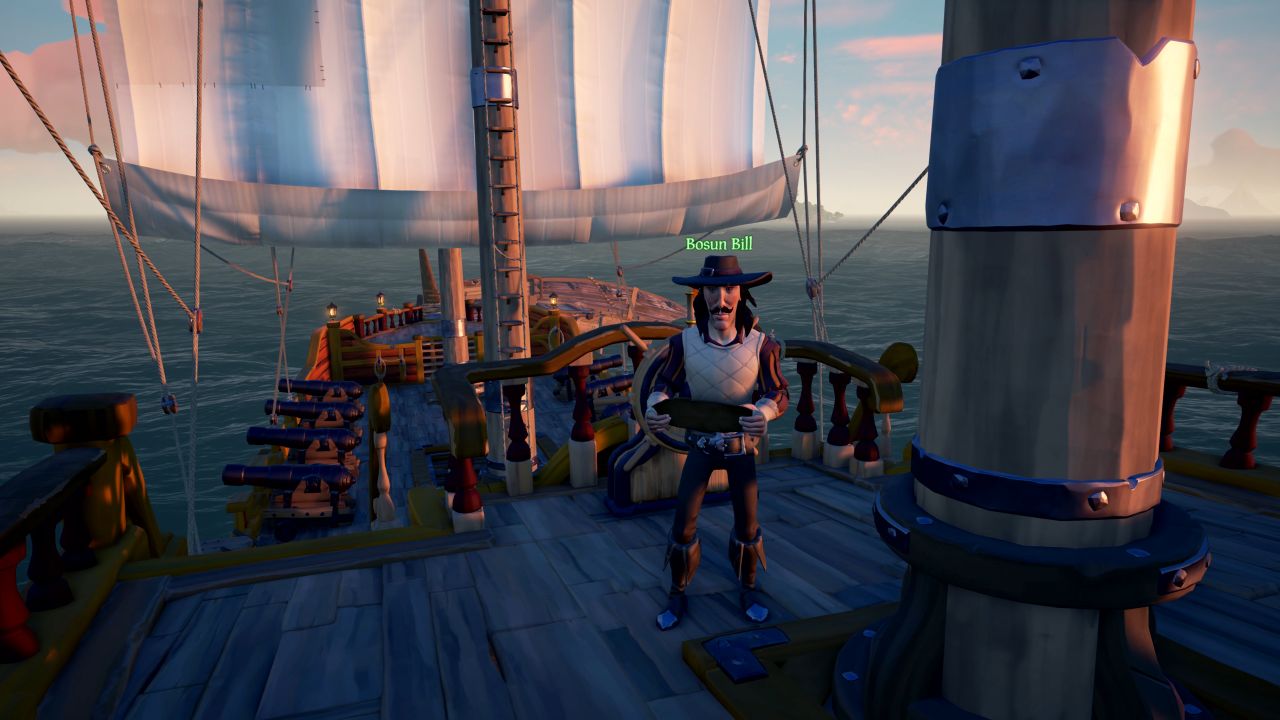 The next 10 minutes are a revelation. The enemy crew, a group of now friendly and encouraging French players, explain to me exactly what they did and how they did it. One of them had launched himself with a cannon and boarded about the time we first saw their ship. While we chatted obliviously, he remained hidden on board, leading his friends in our wake, just out of sight. They thought so two hours.
While we retrieved the treasure from the vault, all but one hid aboard our galleon. They showed me all the places they hid and the emotes they used to do it. One was disguised as a barrel, another used the deck hide emote in a specific spot that's basically undetectable even if you look straight at it.
At the right moment they jumped into action and pleased us by using our respawn time to take the treasure off the ship and sell it for themselves.
Now that I understand what happened, I feel grudging respect. The hide and seek emotes pack they – and many other pirates – use is a bit cheat, but this wasn't about throwing money into the game until it lets you win. It took you three hours of coordinated teamwork and skill just to get our loot – it would have been a lot easier to just do the quest yourself. But these were pirates. They did.
Sea of ​​Thieves is like that. Completely indifferent and unfair, but often full of hilarity and sometimes even a little sneaky friendliness. You can't set sail on the Sea of ​​Thieves and expect not to get robbed, but it's unexpected that these eponymous thieves will arm you with the knowledge to become a proper privateer yourself.
https://www.vg247.com/sea-of-thieves-griefers-best-hearties Sea of ​​Thieves Beneath the Surface: How Griefers That Bullied Me for Hours Became My Best Hearties