News
Sharon Osbourne calls Ashton Kutcher the rudest celebrity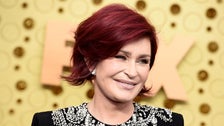 TV personality Sharon Osbourne called Ashton Kutcher the rudest celebrity on Thursday, calling him a "sneaky little thing." (Check out the video below.)
Osbourne, the former reality star and wife of rocker Ozzy, made the revelation during a game of "Stir the Pot" on E! News.
Osbourne randomly scooped the question out of a plastic pot and read it aloud: "Name the rudest celebrity you've ever met."
She turned to daughter Kelly Osbourne for a quick consultation. "The guy who's married to an actress and was on That '70s Show."
"Ashton Kutcher?" Kelly asked.
Sharon said yes. "Oh rude, rude, rude, rude, little boy," she said.
"Really?" Kelly inquired.
"Yes, sneaky little thing," her mother replied.
Sharon Osbourne didn't get a chance to elaborate, but Entertainment Weekly reported that she previously called out the "Cheaper by the Dozen" star for a guest appearance when Osbourne was co-hosting "The Talk."
"There was one guy I couldn't handle, this Ashton Kutcher," she said on "Larry King Now" in 2018, according to EW. "Can't get along with him at all." Osbourne fumed about his "bad attitude" for remembering her name incorrectly, EW wrote.
HuffPost has reached out to Kutcher's rep for comment.