News
Stephanie Grisham: Trump's civil lawsuit probably scares him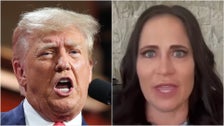 Former White House press secretary Stephanie Grisham on Sunday guessed what mood Donald Trump will be in as he stands trial in New York.
"I think this latest case has really left him quite nervous and scared," Grisham, who was the former president's press secretary for nine months, said on MSNBC.
Trump announced he would appear in court on Monday for the start of New York Attorney General Letitia James' civil fraud trial.
The judge overseeing the case ruled last week that Trump had committed years of fraud and ordered the dissolution of some of his companies as punishment. The 2024 frontrunner could face further penalties if the case continues.
In previous cases, Trump chose not to appear in court. He was not present when the Trump Organization and one of its top executives were convicted of tax fraud last year, nor did he appear earlier this year when a jury found him responsible for the sexual assault of writer E. Jean Carroll in the 1990s made.
According to Grisham, Trump cares about this case because he has something to lose.
"For him, Trump Tower in Manhattan is the most recognizable building, you know, after the Chrysler Building or anything else," she said. "So you know something like that is taken away from him [has] It must be a big blow to his ego."
"I have to say, I feel sorry for any staff member who is around this man right now," she added.
Other former Trump insiders have also pointed out that the stakes are particularly high for the former president in this case. Michael Cohen, his former fixer and former personal lawyer, told MSNBC that Trump was facing his "greatest fear" and described the loss of his businesses as a "death knell."
Watch Grisham's analysis below on MSNBC.