News
Stephen Colbert criticizes Nancy Mace with a NSFW comment on her "Scarlet Letter" shirt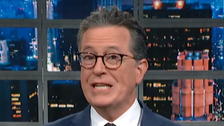 "I wear the scarlet letter after the week I just had, last week, when I was a woman up here and was demonized because of my voice and my voice," Mace, referencing the novel by Nathaniel Hawthorne, said in who was concerned with an unmarried woman becomes pregnant out of wedlock and is punished by a scarlet letter.
"Okay, that's a no, no, that's not – the 'A' just doesn't make sense unless you see the guy she was standing next to," Colbert quipped while cutting to an edited image of Mace , who was standing next to someone wearing a "hole" shirt.
He later launched into another dig at Mace, comparing her appearance to that of a popular musical rodent.
"She looks a lot less like Hester Prynne and more like Alvin Chipmunk," he joked.
You can see more of Colbert's monologue in the clip below.