Steve Bannon found guilty in contempt of Congress trial on Jan. 6
WASHINGTON — A jury on Friday found former Donald Trump aide Steve Bannon guilty of two counts of contempt of Congress for calling off the Jan. 6 House committee.
The jury returned the verdict after deliberating less than three hours in what prosecutors said was a straightforward case.
"This case isn't complicated, but it's important," Assistant US Attorney Molly Gaston told jurors during Friday's closing arguments. She argued that Bannon "did not want to recognize the authority of Congress" or conform to government rules.
Bannon's sentencing is scheduled for October 21, when he faces a mandatory minimum sentence of 30 days and up to a year behind bars. He could also be fined from $100 to $100,000. He is expected to appeal.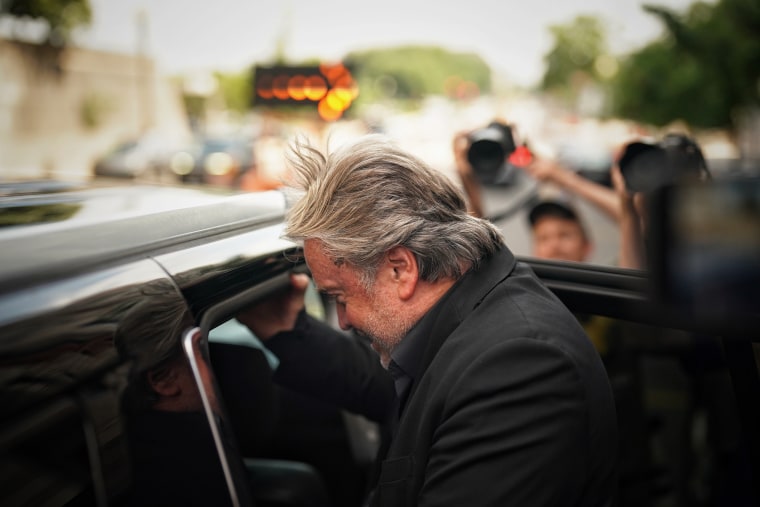 Jan. 6 committee chair Bennie Thompson, D-Miss, and vice chair Liz Cheney, R-Wyo, called Bannon's sentencing "a victory for the rule of law and an important endorsement of the work of the select committee."
"As the prosecutor observed, Steve Bannon 'preferred allegiance to Donald Trump to obeying the law.' Just as everyone responsible for the events of January 6 must be held accountable, anyone who obstructs our investigation into these matters should face consequences," they said in a joint statement.
U.S. Attorney for the District of Columbia Matthew Graves said Friday that the committee's subpoena "was not an invitation to be refused or ignored."
"Mr. Bannon was required to appear before the House Select Committee to testify and produce documents. His refusal was deliberate and now a jury has found he must face the consequences," Graves said.
The Justice Department told jurors during the trial that Bannon would not turn over documents and would testify before the Jan. 6 committee when asked to do so in October 2021 because he believed he was "above the law." Prosecutors called two witnesses — a Jan. 6 committee worker and an FBI special agent — and dropped their case Wednesday.
Bannon and his attorneys made it clear Friday they intended to appeal, with attorney David Schoen describing the verdict as "round one" in a lengthy fight.
"You will see this case reversed on appeal. You're going to see all these resources, three federal prosecutors, four FBI agents wasted on one misdemeanor," Schoen said. "You cannot find any other crime where a person is convicted without believing or knowing or having reason to believe that he or she has done something wrong."
Bannon, Gaston argued, "did not want to recognize the authority of Congress" or conform to government rules.
Bannon's team declined to mount a defense Thursday. In the closing arguments, Bannon attorney Evan Corcoran questioned whether the subpoenas were actually signed by Thompson and raised what he called a "serious question" about a Witness's attendance at a book club.
Judge Carl Nichols repeatedly refused to adjourn Bannon's trial, despite the defense team's assertion that the publicity of the Jan. 6 committee hearings would adversely affect the jury pool and their assertion that Bannon was suspended from testifying because of Trump's alleged claims to executive privilege was excluded. A jury met on Tuesday morning.
Although Bannon offered this month to testify before the committee as he sought to delay the trial this week, the Justice Department dismissed his last-minute change of heart as a "last-ditch effort to evade accountability."
As Assistant US Attorney Amanda Vaughn put it Friday, "It's like a child continuing to argue with their parents after they're told they're grounded. That kid knows they're grounded, they can argue whatever they want, it doesn't change the fact that the decision was made."
In conclusion, the administration said Congress had good reason to want to investigate what happened during the Jan. 6 attack and how to prevent such an attack in the future.
"Our government only works when people show up. It only works when people play by the rules and it only works when people are held accountable when they don't," Gaston said.
Gaston said the subpoena was not complicated and that Bannon chose not to cooperate. She quoted Bannons Quote from the Daily Mail after he was served with the subpoenas.
"I stand by Trump and the Constitution," Bannon told the Daily Mail.
Gaston told the jury that the laws regarding contempt of Congress are strict for a reason and that Bannon knew his claim for executive privilege had been denied.
"His belief that he had a good excuse not to comply doesn't matter," Gaston said. "Defendant chose allegiance to Donald Trump over compliance with the law."
Bannon "had contempt for Congress" and the name of the crime he's charged with tells you everything you need to know, Gaston said. The only person making this case political, she continued, is the defendant.
"There's nothing political about figuring out why January 6 happened and how to make sure it never happens again," Gaston said.
Corcoran, in his own closing statement, told the jury that they needed to put January 6 out of their minds as they considered this case.
He previously said that the senior committee official who testified before the jury wanted to make an example of Bannon because he had a popular podcast and because he was a former Trump aide.
Corcoran also brought up the fact that the committee staffer and Gaston knew each other vaguely from a book club, although it was clear in court that they did not have a close personal relationship and had not crossed paths in years.
"Make no mistake, I'm not against book clubs," he told the jury. But, he insisted, while keeping his face impassive, "It's a serious question."
Corcoran also raised a recent letter from Trump about executive privileges, although the committee had told Bannon's attorney that the alleged claim to privileges was no excuse for not showing up for testimony. In fact, many senior Trump White House officials have testified before the committee, and Bannon has not served at the White House since 2017.
"The prosecutors are basically saying you don't have a choice, but you do have a choice," Corcoran told the jury.
In rebuttal, the government told the jury not to ask what they were missing in the case. "You're not missing anything. That's not difficult. That's not hard. There were two witnesses because it's as simple as it seems," Vaughn said. "How much clearer could that summons have been?"
Bannon "shouted it from the mountaintop" that he wasn't complying with the subpoenas, Vaughn said.
Bannon "thinks his authority as a man is greater than that of our government, which we've all agreed to," Vaughn said.
"That's the definition of contempt," Vaughn told the jury.
https://www.nbcnews.com/politics/justice-department/jury-begins-deliberating-steve-bannons-jan-6-contempt-congress-trial-rcna39497 Steve Bannon found guilty in contempt of Congress trial on Jan. 6