Steven Gerrard left the team frustrated with Aston Villa's lack of cutting edge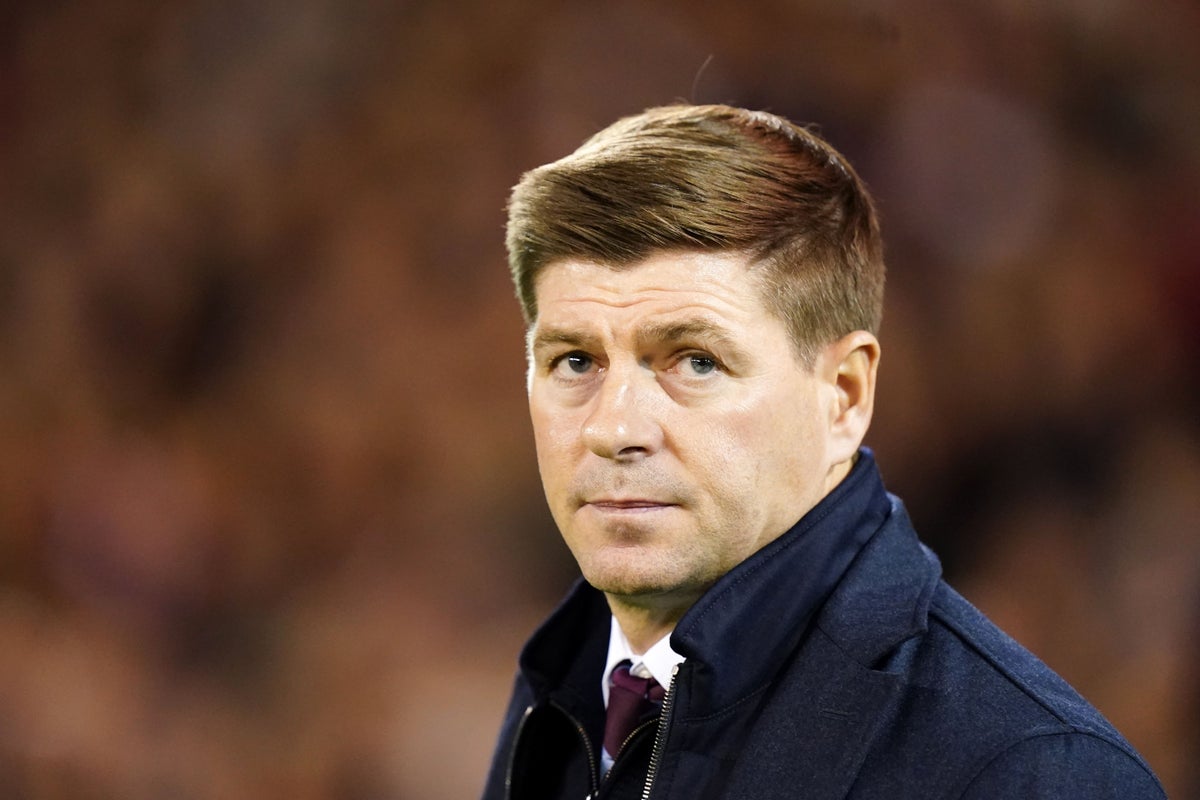 Aston Villa boss Steven Gerrard is losing patience with his attacking players after another blunt performance at Nottingham Forest.
Villa needed a spectacular goal from Ashley Young to earn a 1-1 draw with Forest, who put themselves ahead through Emmanuel Dennis' first-half header.
Gerrard has bemoaned his side's lack of attacking quality this season and it was evident again as Villa failed to put one of the division's most leaky defenses under any real threat.
He hinted he could be ready to change things up for the weekend's clash with Chelsea.
"I think we were the better team and we got the better of the two teams in terms of chances," he said.
"I still think we need to do more in the last third, I still think we lacked a bit of quality and magic moments apart from Ashely Young's fantastic goal. We have to ask more from the players.
"I don't want to sit here and talk about four games unbeaten because it's not enough, we have to get the last two performances with the maximum number of points.
"There's a lot of frustration there. I challenged the strikers to give us more in that area of ​​the pitch.
"We just need more quality from some of our big hitters. If we get that and they step forward with more for us, I'm sure we can turn those draws into wins. Tonight was an incredible opportunity for us to really move up the league and we didn't take it.
"Once we get that from the big players, I'm sure we'll move up the league. Hopefully the players will get in better shape. If not, I will have to change things, be it personnel or systemic.
"Right now I'm thinking about the weekend and there might be changes in the team. So it could be pretty quick."
The point for Forest means they ended a five-game losing streak in which they were relegated from the bottom of the table.
In Forest's first game since boss Steve Cooper was re-signed, just days after he was reportedly about to be sacked, he saw his side perform better as they halted a horrific run of results.
There is still work to be done but the Welshman was determined to take the positives.
"That's what we really need to focus on, the positive aspects of the game," he said. "It's not a win, but we weren't beaten, which was important.
"We're at the bottom of the league, not where we want to be, but that's psychological progress.
"A better stand up and count performance and get something out of the game. This is a moment when we should focus on the positive more than anything else.
"That's how you build faith, that's how you improve and progress. If we don't lose and show commitment like we did tonight, we have to encourage the players.
"Is it our big vision how I want to play? no But was it right for tonight? I think so. It's a step forward and we really have to use it."
https://www.independent.co.uk/sport/football/steven-gerrard-aston-villa-steve-cooper-villa-nottingham-forest-b2199883.html Steven Gerrard left the team frustrated with Aston Villa's lack of cutting edge