News
Stevie Nicks says a Taylor Swift song helped her grieve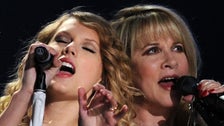 Stevie Nicks thanks Taylor Swift for helping her grieve the loss of her friend.
While the Fleetwood Mac singer has paid tribute to friend and bandmate Christine McVie, who died in November, during her performances, she made special mention of Swift and a certain track on the singer's "Midnights" album at Monday's concert in Atlanta.
"Thank you to Taylor Swift for doing me a favor by writing a song called 'You're On Your Own, Kid.'" said Nicks. "That's the sadness I feel. As long as Chris was there, we didn't even have to call the other side of the world."
"We really weren't phone buddies," she continued. "Then we went back to Fleetwood Mac and walked in and we were like, 'Little sister, how are you?' It was like never a minute had passed in our entire 47 years, never an argument – ​​never."
"So when there were two of us, we were both alone, kids, we always were," Nicks continued. "And now I must learn to be alone, child, alone. You helped me with that. Thank you very much."
Nicks and McVie had been close friends for almost half a century when McVie died at the age of 79 a stroke and metastatic cancer. The band posted a heartfelt tribute within hours, which McVie described as "unique, special and talented beyond measure."
Nicks has dabbled in it ever since a series of tour dates across the US However, the grieving "Landslide" singer was so touched by Swift's latest work and the lyrics to "You're on Your Own, Kid" that she was able to better grieve her friend through music.
"Because pages were turned where the bridges were burned down. All you lose is a step you take." Swift sings in the piece. "So, make the friendship bracelets, take the moment and taste it. You have no reason to be afraid, you are on your own boy."
In an interview with The New Yorker Last year, Nicks recalled a conversation about 10 years ago in which Perry told her, "'Well, there's a Taylor Swift army and there's a Katy army and there's a … '"
Nicks continued, "And I was like, 'This is just bullshit.' You just have to walk away from that. Don't keep that in your head.'"
Such is the power of Nicks that Perry Swift sent a literal olive branch a few years later.
On Monday, Nicks sent the same words to Swift: "Thank you."