News
Stop Cop City organizers in Georgia continue to face harsh charges after new arrests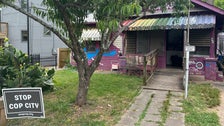 Georgia officials Wednesday arrested another group of people with ties to the multifaceted anti-Cop City movement, adding to the list of dozens of people facing harsh charges over fighting the massive training facility being built in Atlanta , threaten.
The Georgia Bureau of Investigation and the Atlanta Police Department arrested three members of the Atlanta Solidarity Fund, an organization that helps rescue arrested activists, the GBI said in a statement on twitter. Marlon Scott Kautz, Savannah D. Patterson and Adele Maclean were charged with money laundering and charity fraud.
The arrests of the three board members are unprecedented. The Intercept reported, citing Lauren Regan, executive director of the Civil Liberties Defense Center. The Intercept also pointed to the "extreme prosecution" of activists opposed to the Atlanta Public Safety Training Center — or Cop City as critics call it — and pointed to a SWAT team raiding a home to take the board members into custody.
"When three community organizers who help manage a bail bond fund are arrested along with an entire SWAT team on what are apparently bogus financial allegations, it sends a signal that not only is it illegal to protest, but that It's illegal to support people who have been criminalized for protesting," Hannah Riley, writer and organizer, told HuffPost.
"If the bail funds aren't safe, what's next?" she added.
The site is expected to occupy at least 85 hectares in a historically and ecologically significant wooded area of ​​the city of Atlanta.
The movement to prevent completion of the plant is persistent and has nationwide reach. People who disapprove of the facility come in all ages and identities attracted to the movement for various reasons – such as environmental protection or abolition.
As the movement continued to hold numerous protests and events, dozens of people were arrested by Georgian law enforcement agencies. One protester, Manuel Esteban "Tortuguita" Paez Terán, died after being shot nearly 60 times by Georgia soldiers. (Tortuguita's death marks the first time an environmental activist has been killed by police.)
More than 40 people are charged with domestic terrorism. And three other people charged with criminal offenses – who are accused of posting leaflets on mailboxes with the name of an officer who shot dead Paez Terán – have been placed in solitary confinement.
"Most protest offenses are administrative offenses or violations of regulations, such as a speeding ticket," says lawyer Lyra Foster previously told HuffPost. "We've seen a lot of these cases since the George Floyd protests" over the May 2020 police killing in Minneapolis. "People need to understand that the actions of the protesters have not changed; the crimes they are accused of. This is not an escalation of protest, but a crackdown on the same amendment-protected protests as before."
Georgia Senators Jon Ossoff and Raphael Warnock, both Democrats, have encouraged activists not to resort to violent protests and instead to reach out to city officials. according to Axios. Nonetheless, non-violent opponents of the site have still been arrested and charged, and city officials have reportedly largely ignored hours of public comment.
"As we have said before, we will not rest until we have held accountable every person who funded, organized or participated in this violence and intimidation," Georgia Attorney General Chris Carr said tweeted Wednesday.
Micah Herskind, also an anti-pitch organizer, previously told HuffPost that "the literal murder of a forest defender and these incredibly harsh political prosecutions" are heartbreaking.
"I think it makes people more determined than ever to fight and stop Cop City on Tortuguita's behalf and release all political prisoners," Herskind added.
The Georgia Attorney General's Office and the DeKalb County District Attorney's Office, which are prosecuting those arrested, did not immediately respond to HuffPost's request for comment. The Atlanta Solidarity Fund also did not immediately respond to HuffPost's request for comment on the article.