News
Suicide prevention should include talking about suicide
As I walked into the University of Missouri Hospital earlier this year, I wiped my sweaty palms on my jeans. I felt unsafe at the flashing memories of ambulance lights, hospital gowns, and being handed a bag containing the garments that had been cut from my body. I read the words on the wall: "Our mission: save and improve lives." One of the lives the hospital saved was my own.
I was there to talk to the ER residents about my patient experience. I walked into the conference room and there stood Jenn, the ER nurse I'd been looking for for years.
I've checked Facebook, Instagram and Twitter with no success. I had googled her name and found many Jenns with her last name but none of them were her. One of the university administrators was finally able to locate them for me.
When I was admitted to this very emergency room eight years ago after attempting suicide, it was Jenn who helped me pump pills out of my stomach. She poured charcoal down my throat and filled my veins with intravenous fluid to neutralize the effects of the pills. As she helped save my life, a bond of hope was cemented between us that would last for many years to come.
I ran and hugged her and she smiled. "I'm glad you're still with us."
"I'm glad too," I replied.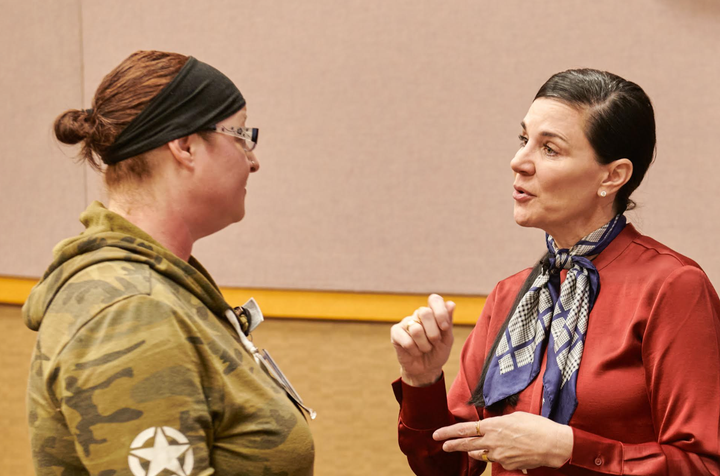 For my presentation in the emergency room, I made a huge poster with photos of my life since my suicide attempt. Photos of me attending the weddings of all three of my children and holding my first granddaughter. Photos of me advocating for mental health with first responders, veterans and women in prison. Photos of me giving keynote addresses and doing national television appearances. My award-winning memoirs. Photos of all the things I would never have experienced if the hospital hadn't saved me.
But the other part of my life was missing from this poster.
There were no snaps of my panic attacks or the sleepless nights of shaking, crying, and pacing every room in my house for hours. I have no photos of the hot 2 a.m. showers, the prayers on my hands and knees begging God's help, or my recent terrifying five-hour screening for electroshock treatment, which is now part of my routine suicide prevention plan. What I said to Jenn was the truth because some days I'm glad I'm still here, but there are still days I wish she and her colleagues hadn't saved my life.
A lot of people applaud me for beating suicidal thoughts, but that's not really what I did. I survived my suicide attempt, but I still have episodes of suicide. You want to live with them – not win. Suicidal ideation can be managed through prevention, intervention, support strategies, and suicide prevention plans. I'm not alone — many people who seek treatment for anxiety, depression, or eating disorders struggle with suicidal thoughts and urges.
Two weeks after returning home from Missouri, I experienced another severe episode of suicide.
When I was teaching a Sunday School class about exams, a woman asked if I would trade my exams for someone else's, and I hesitantly replied, "Sure."
Religiously, it was the wrong answer.
"You would trade with someone who is dying?" she asked. As a mental health advocate, I felt pressure to be an inspirational example for a suicide survivor. I knew what not to say, and yet I felt the truth rising in my voice.
"Yes," the words came out, "I want to die." She gasped. The whole room went silent.
Suicide is a complex issue that can involve many factors, including: mobbing, Prejudice or stigma around race, gender, disability or a person sexual identity. What makes people end their lives can be sexually or physically Abuse, Seeksfinancial difficulties, relationship problems, long-term illnesses or cultural and social pressures as well insanity and lack of Mental Health Resources, Naturally. Any of these situations can leave a person feeling isolated, inadequate, hopeless, and silenced.
In 2004, my father attempted suicide. My brother and sister found him in time and he lived only seven years: he suffered a bipolar episode and died by suicide. The ever-present guilt that I could have done more to save him still haunts me. I often wonder if he would still be alive today if he and I had talked about our suicidal thoughts – really talked.
Some studies suggest that a single suicide loss impacts the lives of those affected 135 different people.
The prevalence of suicidal thoughts among teenage girls – nearly a third of female high school students reported in 2021 that they had recently contemplated suicide – is extremely worrying and catastrophic as it coincides with a national divestment in mental health care. Even before the COVID-19 pandemic Inequalities in mental health care in the US resulted in more than 100,000 deaths and cost the economy about US$278 billion over four years.
I am one of the fortunate ones who receive proper mental health care. It would be terrifying – and most likely deadly – for me to forego the support of psychologists.
My dialectical behavior therapist taught me that two truths can coexist: we can be lost and found at the same time, or we can be desperate and hopeful.
My two truths in that Sunday School class were that I wanted to live – and I wanted to die.
As a mental health advocate, I was terribly afraid to admit this second truth for fear I would steal hope from people who desperately need it. But I now think I would take hope away from them if I didn't share the whole picture.
Relapsing into yet another suicide episode makes it difficult not to question if I somehow failed. But finding the strength to live another day takes courage. Surrendering to the reality that many have struggled with suicidal thoughts more than once, and for some like me possibly for the rest of our lives, that is where hope resides. Hope is a decision to surrender to what "is" in this moment, knowing that dark times don't last forever and there are more joyful moments that we can experience.
Jenn later texted me: "Knowing, understanding and feeling that I was valuable and important to you the way you were and are to me that day and every day has been an amazing feeling I have had since hadn't felt in nursing for almost two decades." It was a reminder that each of us is valuable not only in terms of our individual worth, but also in relation to one another.
The only thing we can all do to help prevent suicides means having open and inclusive conversations with our families, friends, colleagues and students, and in our communities where people can share their unique experiences without shame or heartbreak. This expands our collective understanding of suicide by hearing different perspectives and creates a more supportive environment for those who are struggling.
Suicide is not inevitable for anyone. Talking openly about suicide gets more people out there Searching for help for their mental health, which reduces the risk of suicide.
This is how we save lives.
Sonja Wasden is a suicide survivor with over 30 years of experience with mental health issues. Her award-winning memoir: "An impossible life", which details her struggles with mental illness, was featured on CBS This Morning as a story of hope. She is a member of Newsweek's Expert Forum and has traveled the country speaking to Fortune 500 companies, nonprofits, government officials, advocacy groups and top media outlets on the importance of mental health. She has worked as an editorial writer for Oprah Daily, The Washington Post, Newsweek, The Hill, Ms. Magazine, and the National Alliance on Mental Illness, among others. Sonja has been interviewed over 50 times on local and national news about the importance of raising mental health awareness. She has had the privilege of sharing her story and message of hope with millions of people.
Have a compelling personal story you'd like to see published on HuffPost? Find out here what we are looking for and send us a pitch.