News
Taylor Swift breaks her silence and condemns anti-LGBTQ laws during Eras tour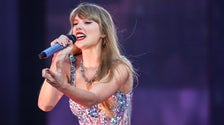 Taylor Swift co-opened Pride Month judged Anti-LGBTQ+ legislation during the Eras Tour concert in Chicago.
"We can't talk about pride without talking about pain," she said during her concert on Friday. "Right now and recently there have been so many harmful laws that have put people in the LGBTQ+ and queer community at risk. It's painful for everyone. Any ally. Every loved one. Every person in these communities."
She continued, "And that's why I always post, 'This is when the midterms are.' This is when these important key primaries happen.'"
Swift's speech drew mixed reactions from fans. Several fans applauded her on Twitter for speaking out on LGBTQ+ rights and against politicians pushing anti-transgender legislation.
Swift indicated that she would speak out more on political issues after her release 2020 Documentary "Miss Americana". But until this week, the singer hadn't spoken publicly about recent legislation targeting LGBTQ+ people in the country, even during her concert in her home state of Tennessee issue a towing ban earlier this year.
"We can support as much as we want during Pride Month, but if we don't research these elected officials – are they supporters? are they allies Are they protectors of equality? Do I want to vote for her?" Swift said during her speech on Friday.
Some fans criticized her words, calling them performative.
Other fans pointed out Swift's irony benefit from queer communities through the music video for their song "You Need To Calm Down", but without condemning the recent attacks on the community until Friday.
"Being with you during Pride Month and singing the lyrics to 'You Need To Calm Down,' where there were lyrics like 'Can't you just step on his dress?' gives. or, "Shade never made anyone less gay," and you guys scream those lyrics," Swift said during the Eras Tour this week.
She continued: "Such solidarity. Such mutual support and so encouraging, beautiful acceptance and peace and security. And I wish that every place was safe and beautiful for people in the LGBTQ+ community."
Some fans have speculated that safety concerns may have been the reason Swift hasn't raised anti-transgender legislation at previous Eras touring concerts. However, others believe she is privileged to speak out as a white woman, pointing out that celebrities with marginalized identities, such as Lizzohad I have already taken the risk of speaking out on these issues during their concerts.