News
Teenager fatally stabbed outside McDonald's in Washington, DC
According to police, a 16-year-old girl died after another teenager allegedly stabbed her to death early Sunday during an argument over McDonald's sweet and sour dipping sauce outside the Washington, DC fast food restaurant.
Naima Liggon, who lived in Waldorf, Maryland, was taken by car to a hospital where she was pronounced dead sometime after 2 a.m said the Metropolitan Police Department. Police on Sunday arrested another girl, also 16 and from Waldorf, on suspicion of second-degree murder, adding that the teenage girl had a knife on her at the time.
The suspects' lawyer said at a hearing on Monday that she acted in self-defense. The Washington Post reportedand she pleaded the juvenile equivalent of not guilty.
But the prosecutors said that the fight was captured on surveillance video, which allegedly showed the girl lunging at Liggon as she got back into the car.
At Monday's hearing, an investigator testified that Liggon, the 16-year-old, and another girl were arguing over sweet and sour sauce before the stabbing.
"Ultimately someone died because of an argument over gravy," the judge said at the hearing, according to the Post, and then ordered the girl to remain in custody pending another hearing scheduled for Friday.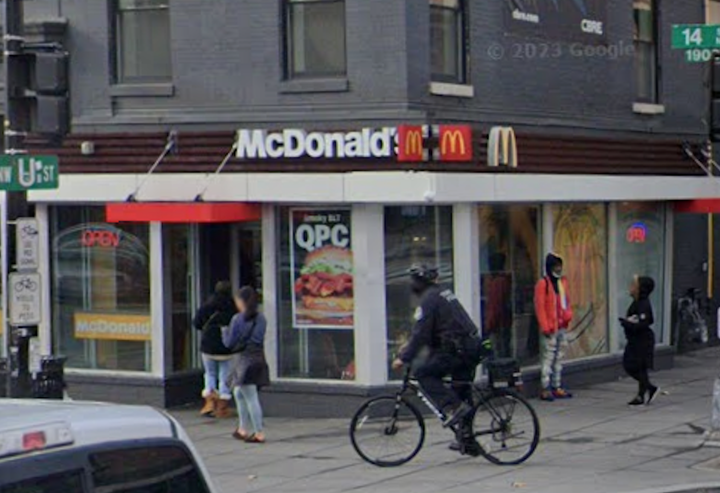 "Naima was a beautiful, smart, funny and unique young lady who loved life" her mother, Joy Liggon, said in a statement. "She was loved and admired by so many people. Naima loved music and art, basketball and set out to become a master hairdresser. She had just been hired as a donut specialist at Krispy Kreme and was preparing to get her driver's license. The impact of this senseless loss is affecting our family, our friends, and our community. Naima will never see her prom or graduation. We will not see her graduate, marry, or have children.
"If I had one message for parents, it would be love your children. Make sure they know they are loved when they walk out your door. Because you never know if this is the last time you'll see her. We love Naima and will miss her immensely. She left a lasting impression on our hearts. I am praying for our family and friends and also for the family of the young lady who took her own life."
Liggon was a student at Thomas Stone High School in Waldorf, where classes for the new school year began on Monday.
"This is a heartbreaking and tragic time for our school community," principal Shanif Pearl said in one statement on Sunday, noting that bereavement counseling would be provided. "I ask that you keep Naima's family, friends, loved ones and our school community in your thoughts and prayers."