News
"The Bachelorette" Season 20: Recap of Week 6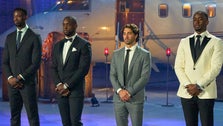 Charity Lawson travels across the country to meet her suitors' families on Monday's episode of The Bachelorette, marking the beginning of the end of the franchise's 20th season.
Lawson only has three roses to give away in Week 6 and it seems like a fight full of emotional moments and lots of tears could ensue between Aaron B., Joey, Xavier and Dotun.
HuffPost reporters and editors discuss the episode Monday night at 8 p.m. Eastern Time. Stay tuned.