News
The BBC is under pressure over claims a well-known presenter paid a teenager to take explicit photos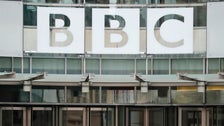 LONDON (AP) – Senior British politicians on Sunday urged the BBC to swiftly investigate claims that a leading presenter paid a teenager for explicit photos.
Culture Minister Lucy Frazer held crisis talks with the channel's director general and said the "deeply worrying" allegations needed to be "swiftly and sensitively" investigated.
The publicly funded national broadcaster is under pressure after The Sun newspaper reported allegations that the male presenter gave £35,000 ($45,000) to a youth from 2020 when he was 17 years old.
Neither the star nor the youth have been identified. As speculation raged on social media about the presenter's identity, several of the BBC's best-known stars came forward and said they weren't.
Although the minimum age for sexual consent in the UK is 16, it is a crime to take or possess inappropriate images of anyone under the age of 18.
The Sun said the young man's mother complained to the BBC in May. It was unclear what action, if any, the broadcaster had taken.
In a statement, the BBC said: "We take all allegations very seriously and have processes in place to deal with them proactively."
"If at any time new information comes to light or is made available – including via newspapers – we will react accordingly according to the internal processes," said the broadcaster.
British media reported that the presenter would not be on the air anytime soon, but it was unclear if he had been suspended.
Frazer said Director-General Tim Davie had assured her that the BBC was "quickly and sensitively investigating".
"Given the nature of the allegations, it is important that the BBC is now given the space to conduct its investigation, establish the facts and take appropriate action. I will be kept informed," she wrote on social media.
Rachel Reeves, economics spokeswoman for the opposition Labor Party, said the BBC needed to "speed up its processes" and "put its house in order".
British commercial broadcaster ITV recently faced a scandal of its own after Phillip Schofield, a longtime presenter of the channel's popular morning show, quit in May and admitted to lying about an affair with a much younger colleague.
ITV executives have been summoned to Parliament to answer questions about whether the channel has a "toxic" work culture and has been covering up star misconduct.
The BBC is under more scrutiny than other broadcasters as it is funded by taxpayers' money and has pledged to remain impartial in its reporting. When her leading sports presenter, a former English footballer, stirred up a storm about free speech and political bias in March, she was thrown into an uproar Gary LinekerHe criticized the government's immigration policy on social media.
Lineker was suspended – and then restored after fellow Premier League sports presenters, analysts and players boycotted BBC radio waves in solidarity.