The cast of Bros Talks Improvements, Spot Therapy, and Sacred Queer Content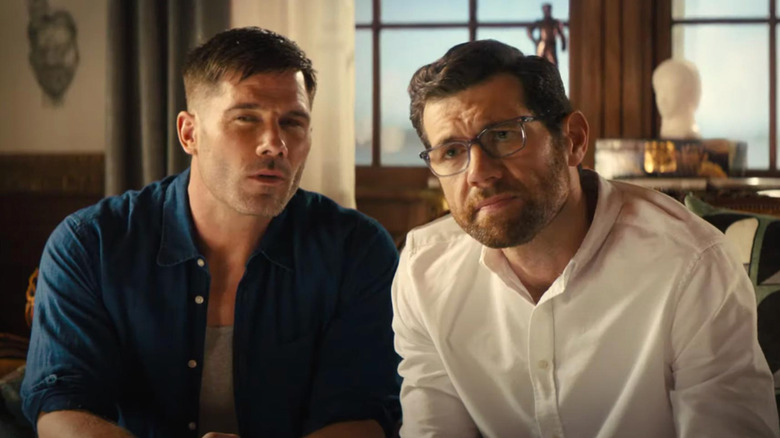 After months of anticipation, the wait for "Bros" is finally over. Billy Eichner is officially off the streets and in the newspapers, falling in love and tapping into a budding romance for all that worthwhile comedy. The romantic comedy sees Eichner co-starring Luke Macfarlane as two men who fall in love despite having little in common. As they navigate the complexities of acknowledging that they may be in a de facto relationship, Eichner's character Bobby is also in the midst of a major career development, as he tries to find funding for a museum dedicated to LGBTQ+ history.
While the film sets the line between subversive tropes and also offers a very sweet love story, it also serves as a love letter to the larger LGBTQIA community. Much of the cast – including smaller supporting roles – is filled by LGBTQ+ performers, including seasoned actors like Dot Marie Jones ("Weird: The Al Yankovic Story," "Glee") ") and Jim Rash ("Community"), as well as rising stars, like actress/model Eve Lindley, who you might recognize from her roles in "After Yang," "Mr. Robot," " and more.
For Dot Marie Jones, nothing diminishes the importance of "Bros" and its approach to casting. As an actress who has worked for nearly 30 years, Jones has played every iteration of a lesbian supporting character under the sun – but rarely in a story that has brought attention to the entire LGBTQIA community. "For my business so long, yes [usually] maybe one, probably Jones said in an exclusive interview with /Film. "When we got to the point where the entire cast was LGBTQ, it was like, 'Oh my God, this is going to be huge.' And I believe it's even bigger than I anticipated."
That's only part of the puzzle, though – the real draw of "Bros" is that it's a delightfully hilarious experience, as evidenced by /Film's conversations with Jones, Rash, and Lindley, which you can be read below.
(This interview has been lightly edited for clarity.)
'It was even bigger than I expected.'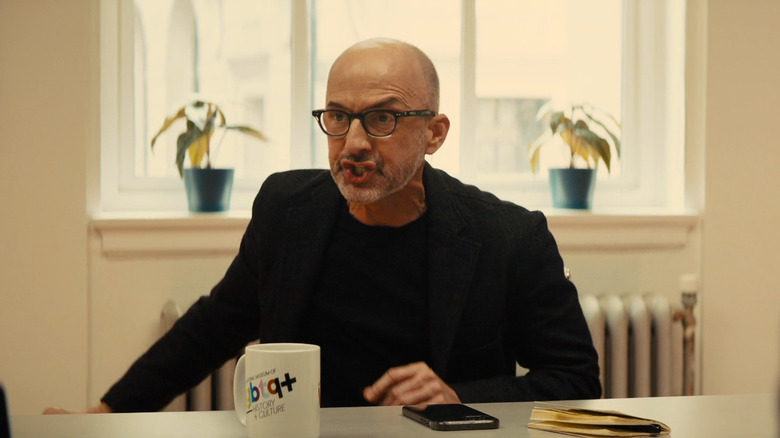 For each of you, I'd love to know what "Bros" has brought to you and what it means to you personally being part of the cast and being a part of the movie. this.
Eve Lindley: For me, it was just a sketchy audition. I am very excited about everyone who participated. I have loved Billy for a long time. Only later did the monumental, groundbreaking element become a part of it. But yeah, I just hit the pavement hard when I got the audition.
Jim Rash (above): And Dot, our story will overlap a bit.
Dot Marie Jones: I know. Whatever Jim says.
Rash: Well, we'll talk separately about the impact on us, but I'll give the title. Dot and I were at a reading table for it, very early, pre-pandemic, before the shutdown. We were not attached. A lot of times, actors show up and read just to listen. I think we read a lot of things, including our characters. So I don't know. I can't speak for Dot, but I don't know exactly what… I know that what we're reading is hilarious. A lot of it is still the same. There are different things. But that was before he announced their idea that this entire cast would be primary LGBTQ, plus lots of cast members. So it became even more special as it opened up for me. That's important to me, just for a very simple reason.
Jones: For me, like Jim said, when we were sitting at the table reading… the script was crazy. And there's a lot of character in it. I just remember it read very quickly.
Rash: YES.
Dot Marie Jones: But we still laugh. There are a lot of comics in it, read for different roles and content. When you do something like that, you never know if they will actually take you back or ask you to do it or what will happen. Then when I took it and re-read the whole script myself, as opposed to just doing what they wanted me to do, which was, "Oh my God, this is amazing. And that's what I do. never read. Something different."
It doesn't look like a job to do. It's not your typical, well, I shouldn't say "typical". But for my business so long, yes [usually] could be one, could be two gay characters in a movie or show. And when we get to the point where the entire cast is LGBTQ, it's like, "Oh my God, this is going to be huge." I believe it is even bigger than I anticipated.
'Lots of hearts and support.'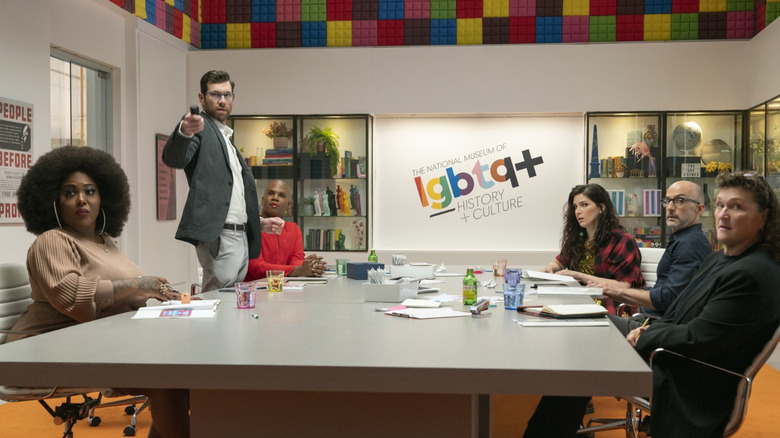 So very early on, the script was really fast-paced, really fluid, and it definitely feels like that in the movie. But it also feels really organic and very similar to the way people talk to each other. Was there a lot of improvisation involved in those museum board scenes or…?
Jones: Jimmy?
Rash: All of us.
Jones: Yes, all of us.
Rash: Eve will throw them out quickly. It is very cooperative. But the main problem is that we shoot the script first and most importantly, because it's gold. Then everything after that just in the spirit of cooperation of the moment, things happen. Our characters come to life when we first sit at that actual table. So you don't want to miss those opportunities. They are also flying in ideas. Billy would keep in mind after every play, not only humor, but story play, play, "Are we taking care of these characters?" Humorously, yes. But we are using care about their? I think that's a big difference.
Jones: Sure. I think so. Plus, in the movie, I felt not only the hilarity that followed, but also a lot of heart. Hearts and support for all the fights and things that we've done. Lots of hearts and support.
I've definitely thought about that. There's a lot of bickering in those scenes and a lot of people taking control of what's going to be in the museum. But there is also the core of love between all those characters.
Rash: That fight came from a real place. We had to deal with some issues as actors. So you want to capture all of that.
Lindley: They had to bring a therapist to show us.
Jones: And a wrestling court.
Rash: [Laughs] YES. We are physical.
Was there a conversation with Billy and with Nick about that partnership? Or is it something that just happens in the moment?
Jones: It screams more, don't you think?
Lindley: Yes, Dot threw a chair out the window. [Laughs] No no. There's a lot of going back and forth and, "Oh, if I say this, you can say it." And it was –
Jones: There's a lot of, "Try this, try this."
Rash: YES. I think we showed up on the first day, and they put that as an understanding. I don't think there's any reason why we should feel shy about throwing something in. And I think that's the beauty of that process.
'I Don't Want To Give Anything But It's Very Invigorating And Makes You Want To Cry.'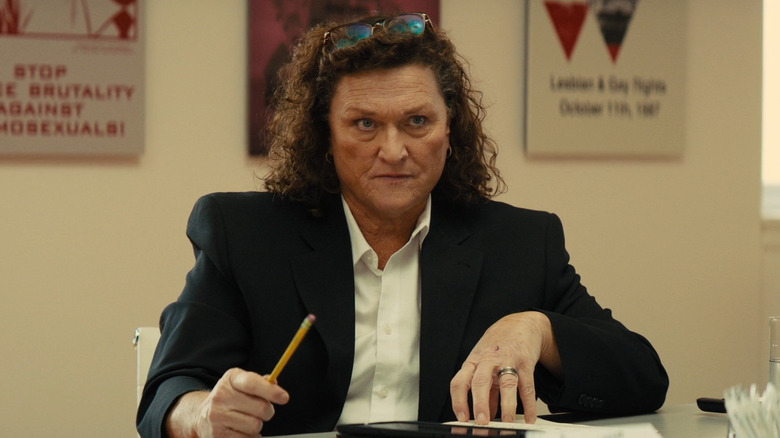 There are millions of jokes in this movie which makes it very enjoyable to hear others mock what we all have been going through. Is there a joke or a theme for every person you hear or read in the script and you're like, "Finally, someone said it"?
Rash: Oh my God.
Lindley: Caitlin Jenner's joke is pretty…
Jones (above): It's frenzied.
Lindley: I find it quite interesting. That's what I hear a lot of people say, "Oh, someone finally said it." So I like that one.
Rash: I really enjoyed the character Steve and the whole scene. And the man came in and said, "Oh, hi, Steve," with judgment, told me everything I needed to know about this man's existence in this group. I love it.
Jones: It's frenzied.
Rash: Frenzy. I was not prepared for that. I still chuckle afterwards. But I will say, and I know these are more emotional things, but hearing Billy's speech in P-Town, to me, is… Everyone feels it. But especially for me, I was: "Oh my God. I can put this speech in my own way." But I think that's where you know you've really tapped into something other than comedy. That, for me, is very important.
Jones: God, that's too much. But what Jim had to say about Billy's P-Town speech could resonate with anyone, not just a gay man. I took a lot out of it that… I didn't want to take anything out of the speech, but it was thought-provoking and it made you want to cry. Because I cried, of course. I always cry. But I cried watching the movie, seeing it on screen for the first time. Again, there's a lot of messaging, along with humour. There are a lot of heartfelt messages in this movie that I hope people get and I hope they can resonate with some of these characters.
For me, the "Finally, someone said it" moment is the joke they make about "Glee". Which, I like your meta class there, Dot.
Jones: Oh, it's a show? [Laughs] It's funny because the first time I heard it, I was like, "Oh my God, I forgot that was in there."
'This is something that probably a lot of people can match.'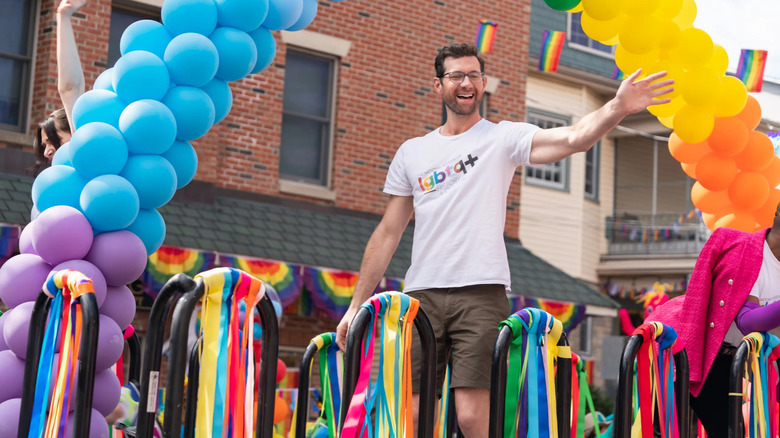 I feel, for me and a lot of people my age around me, that's the core weird text that we have to grasp. And I'm curious, for each one, what's yours? Or what did you have on the screen at the time?
Lindley: Oh, mine is definitely "Glee." I still love "Glee" to this day. But for my parents, it was really important to them. Because I think it was a big deal for my dad to see Chris Colfer's dad standing up for his baby being born. So "Glee" is definitely a sacred text to me.
Rash: Yeah, obviously, I appreciate "Glee." But I remember… I think… I may have the year wrong, but '94. But the '90s, when you had "Will & Grace." I remember hearing them talk about the fear of that performance. Then I think whatever head of NBC is like, "Well, worst case scenario, we have a bad pilot, but let's be the pilot." And so I think the program. But so is "Glee". I think all these programs are built on top of each other. And they're targeting more than just the generation already there.
Jones: YES. Sure. "Will & Grace" was amazing. But back when I was a kid, the only gay character I really remember was played by Billy Crystal in "Soap". And it never digs into these heavy, emotional things. In a sense, it was always a joke. That's one thing I'm very proud of about "Glee" is how I feel Shania Russell Ryan [Murphy] hits every demographic he can reach to represent in the LGBTQ community. And now "Bros," instead of different episodes for six seasons, they put it together in less than two hours.
We are all there, and we are together. And it's all great, and it's all epic. But "Bros" is a kind of rom-com – a specific genre that basically, all of our lives, are couples in love – and now that it's LGBTQ, here's what maybe more people can resonate. If a person says, "You know what? That makes me okay with myself. I was able to laugh at myself, without fear and without these terrible dark thoughts, and go to dark places. this." If one can understand that in this then I believe a lot of people will get it.
"Bros" hits theaters on September 30, 2022.
Continue reading: The 20 best romantic comedies of the 90s ranked
The post The Bros Actor Talk of Improvement, Spot Therapy, and Sacred Queer Content appeared first on /Film.
https://www.slashfilm.com/1031184/the-cast-of-bros-talks-improv-on-set-therapy-and-sacred-queer-texts/ The cast of Bros Talks Improvements, Spot Therapy, and Sacred Queer Content