The Champions League draw comes as the Super League court case hangs over the European game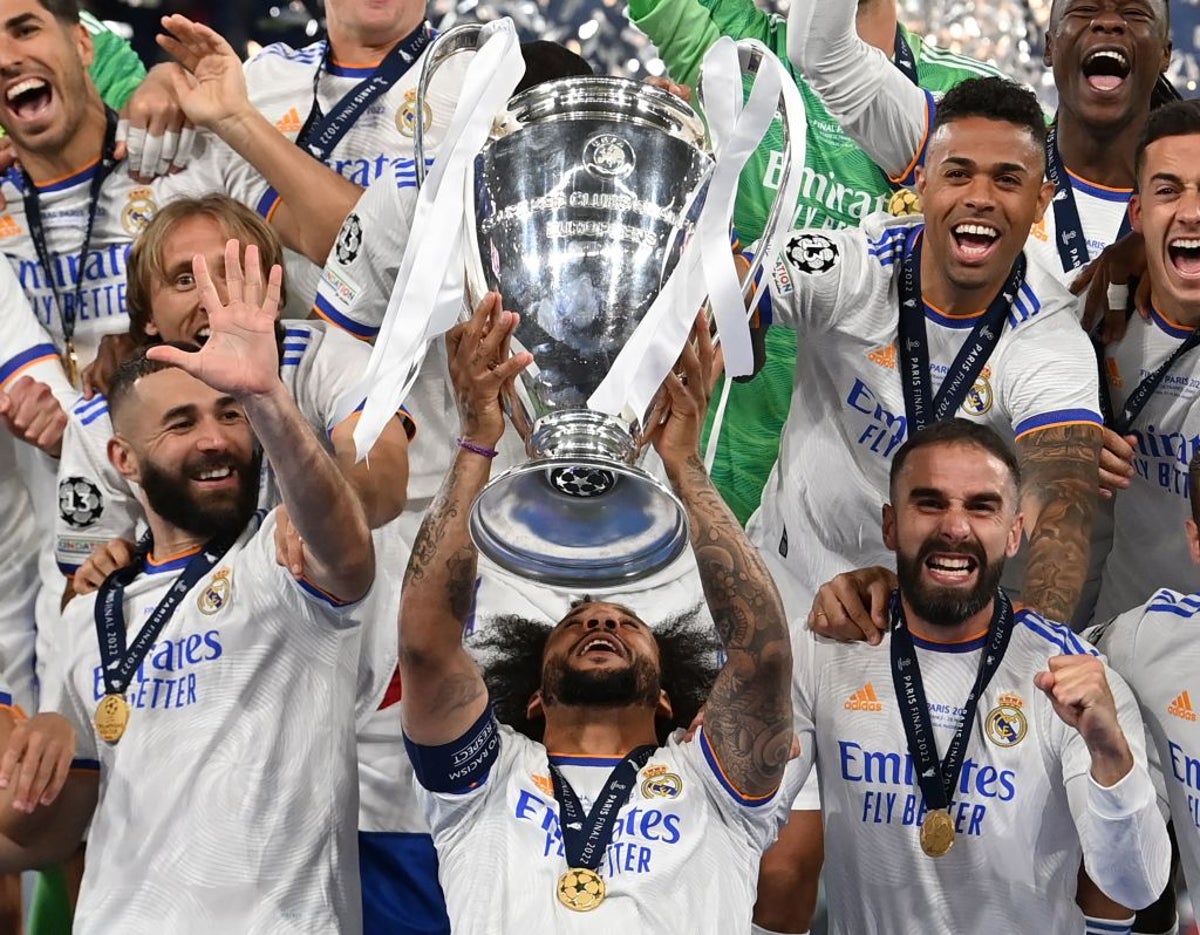 When officials from Europe's big clubs gather in Istanbul for the Champions League draw, it will be the first time many have been in the same room together since Covid.
There will be some tension and sizing. By far the biggest issues will be football politics, rather than old-fashioned concerns about who they might face in the draw. That's because of a discussion now more than old-fashioned, namely that the group stage of the competition is boring and predictable. It's such a done deal It is to be ended altogether as this is the penultimate season of the old round robin format. Enjoy the grandeur of the draw while you can.
However, the controversial changes to the "Swiss system" will not solve much. You only have to glance across the continent to see how the group stage simply follows a growing trend. Predictability is now the way of European football.
In France, Paris Saint-Germain have already scored 17 goals in three opening wins and are firmly on their way to a ninth title in 11 years. In Germany, Bayern Munich have already scored 15 goals from three to make their 11th consecutive title look like a procession. Such a feat would mean that only six clubs in world football history have had longer streaks than the German champions. They are:
Vanuatu's Tafea FC (15)
Gibraltar's Lincoln Red Imps (14)
Latvia's discount Riga (14)
Belarus' BATE Borisov (13)
Jordan's Al-Faisaly (13)
Norway's Rosenborg (13)
So that would be two micronations and four minor leagues, two of which went through the throes of post-communism. Needless to say, this shouldn't happen in a major European league, where size alone should ensure sufficient competition. And while Ligue 1 and Bundesliga both have their own specific problems – PSG's ownership of Qatar, Bayern's financial strength – they all add up to a much bigger problem for Uefa. The specific problems of these countries are also related to the fact that PSG and Bayern are now the two leading forces in the European Club Association. They have entered the vacuum left by the Super League but are expected to continue in the same direction. This is lobbying for the interests of the biggest clubs, which in the past have argued for a larger share of revenue and against more redistribution – although there is now resistance from a hull of smaller clubs in the organization to changing funding. This is urgently needed.
The situation has seen an overwhelming chunk of club football revenue go to seven main regions of Europe, all of which benefit from what Barcelona president Joan Laporta would describe as a 'virtuous cycle'. These riches were most maximized by the Premier League by channeling them into their broadcast deals. This means it covers the most significant parts of these seven areas which, based on Deloitte club revenue figures, are:
North West England (over €2bn (£1.7bn))
London (€2bn)
Madrid (over €1bn)
Northern Italy (€950m)
Munich (€650m)
Barcelona (€650m)
Paris (over €550m)
At around €8bn, this means that these seven metropolitan areas account for around half of the total €15.6bn in annual revenue from the European football market. They will consequently also provide almost all 16 qualifiers of the Champions League group stage, which is what makes this draw feel so pointless.
When a lot of people see those numbers and say it's obvious because there are so many clubs in those areas, that's kind of the point. Obviously something is broken in European football when huge population centers outside of these seven cannot even hope to have clubs of this financial size.
It presents the European umbrella organization with an existential question, especially since it is now being asked in the pending legal dispute in the Super League.
Is Uefa really effective if they can accumulate so much football wealth in so few areas? They form a financial mass that now weighs so heavily on the rest of the sport that it could create a breaking point.
That's what's really being discussed in Istanbul this week as the ongoing European Court of Justice case overshadows the entire game. Real Madrid, Barcelona and Juventus officials now feel more optimistic than ostracized.
The feeling is that the first hearing went well for them and Uefa "should be worried". Despite all the governing body's 'populist' arguments about the ills of the Super League, with widespread state backing, the case is all about whether Uefa constitutes a monopoly on competition formation. That, it is argued, is what the Champions League stands for. The Uefa lawyers counter that a so-called "monopoly" is necessary because the entire ecosystem of European football needs to be protected, leading to disputes over the protection of elements of art by European law.
And since the Uefa has left open.
It's fair to wonder how exactly Uefa is protecting European football when it's so financially unbalanced – when much of its culture is now wasteland serving only the top leagues. Look how pointless the Champions League is for so many big names, from PSV Eindhoven to Dinamo Tbilisi.
That's just one line of attack from the Super League's lawyers, along with longer-term arguments about Uefa being both a regulator and an organizer, generating vast sums of money from a system designed to monitor them.
Admittedly, the cheekiness of this attitude is as remarkable as it is ironic. It's clubs like Juve and the Clasico Two that got Uefa into that position in the first place, always dangling the Super League only to now point out the flaws in a landscape they've shaped more than anyone.
Here it is impossible not to have sympathy with the Governing Body. However, there can also be criticism.
Uefa has never been proactive. Almost all regulation on all of these issues has been reactive and only ever responded to what was put in front of Uefa, which only served to perpetuate the status quo. This is why the big clubs, including PSG and Bayern, so often prevail in terms of prize money and revenue sharing; and . hence the landscape looks like this, with piles of money in some areas towering over the rest of Europe.
The latest example of such reactions is the forthcoming transformation of the Champions League. The so-called "Swiss system" only circumvents the real problem instead of tackling it. It doesn't address the financial disparity that really made the group stage so boring and maybe even makes the problem worse.
It didn't appease anyone either. "No one is happy with that," says one prominent official.
This leads to growing dissatisfaction with Aleksander Ceferin throughout the game, and not just among the Super League forces. Even the opponents of the project are of the opinion that the Uefa President has completely squandered the momentum and the opportunity from back then. They believe his answers were superficial. It was also noted how he thanked the likes of Boris Johnson for failing the Super League, but didn't pass on the same gratitude to league executives like Javier Tebas and Richard Masters.
A widely held view in football legal circles is that Uefa exhibits "poor governance" and a lack of foresight. If that sounds harsh, it can at least be felt in the discussion about a possible solution to all of this. One of the reasons why clubs from big metropolitan areas – like Ajax, Celtic or Club Brugge – cannot generate competitive revenues is that the leagues they play in are too small, which makes the TV market too small. They're too big for their own countries but not big enough for the Champions League, leaving them in a weird football limbo.
Uefa could sidestep this immediately by opening the door to regionalized leagues. It would instantly transform the prospects of hundreds of clubs while preserving the basic structure of European football and sharing out the revenues.
However, Ceferin will not agree because he is too fixated on traditionalist ideas. More critical sources attribute this to "a need for total control" and "protectionism".
Because of this, the next step for the Super League is to try and seduce these middle-tier clubs. You would love a competition featuring Juventus, Real Madrid, Barcelona, ​​Ajax, Porto, Celtic and select others. That's why anti-Super League voices are now admitting that "the game could maybe use some kind of reset".
Only, depending on who is responsible for it, it can get worse. It is obvious that European football needs a protective organization like Uefa instead of just being in the hands of the big clubs. Football's unified pyramid is also one of its great assets, in contrast to the free-for-alls in cricket and boxing.
December's ruling, which will decide whether the ECJ case moves to the next phase, could decide some of that.
Numbers with knowledge of the process ultimately expect one of three outcomes when going the distance. First, the court takes a purely political interpretation and judges that a "monopoly" of Uefa is justified. The second is the complete opposite and Uefa will be crushed. The third is a more centrist position, with Uefa not fragmented but arguing that it cannot be both regulator and competition organiser. It could possibly only sanction competitions, with thicker walls between its different parts.
Some believe there may be an unforeseen "Solomon's Baby fix" that will leave no one happy. December 15th will be crucial because it decides the next step.
It's saying a lot that it's a lot harder to predict than the entire group stage of the Champions League.
https://www.independent.co.uk/sport/football/champions-league-draw-uefa-super-b2151721.html The Champions League draw comes as the Super League court case hangs over the European game