The Curse of Horizon has struck again with Forbidden West
What's the deal with the Horizon series and appearing right before genre-shattering barnstormers? Horizon: Forbidden West is just as good with a few tricky weaknesses Horizon: Zero Dawn was. But now my life is everything elden ring for the foreseeable future and with some other pretty hot games on the mid-term horizon… I just can't see myself finding time to play it anymore.
This has all happened before, remember? Horizon: Zero Dawn was released on February 28, 2017. It was a decent open world game with beautiful graphics, a likeable protagonist and a really cool atmosphere and sense of style. But then, four days later, The Legend of Zelda: Breath of the Wild was released. The board has been wiped clean by Nintendo's foray into open-world action-adventure design.
It didn't matter how cool Horizon (Metascore 89) was; the conversation was now only about Zelda (Metascore 96). Yes, Zelda launched alongside a new console – but the conversation wasn't really dominated by the Switch itself; It was about Zelda. Oh my god, did you find that shrine? Have you seen this unorthodox puzzle solution? Did you see how this guy defeated Ganon and saw the credits in just half an hour?
Ultimately, I didn't return to Horizon until three years later with the PC version. Playing it on PC (it's great on Steam Deck, btw) I'll admit I missed the second half of what was a pretty nice game… but I also know I absolutely made the right prioritization decision in 2017.
Horizon sold quite well, by the way – but its moment at the center of the gaming world's mind was summarily ended by Zelda. It probably deserved a little more attention than it finally got.
And now… it's happening again. You have to sympathize with Guerrilla Games, the excellent developer behind Horizon, which has evolved from good, not great, visually stunning shooters to games that feel like they have more heart and soul, mostly driven by a protagonist that's actually playing seem to love. Forbidden West is arguably the second 'real' PS5 game next to Ratchet & Clank: Rift Apart to really stun with next-gen graphics.
Forbidden West is making big leaps forward in some niche areas that are particularly important to me, e .g . In fact, from what I've played so far, it's a solid improvement over the original in almost every way – except maybe Aloy's constant chitchat to herself as you explore, which remains incessant.
But… none of that seems to matter now. Seven days after the release of Horizon Forbidden West, Elden Ring hit shelves. Ohhh Elden Ring. I think the industry's penchant for comparing everything to Breath of the Wild is misguided at best (although everyone draws the comparison, Pokemon Legends Arceus, for example, has next to nothing in common), despite Elden Ring really being a game that it shares some DNA with this groundbreaking open-world adventure – but it brings more than enough original ideas to the table to be a genre disruptor in its own right.
I don't think Elden Ring is pretty much perfect, but there's no question in my mind that it's a masterpiece. It's extremely rare that I end a game with an exhausting open world after ninety hours and… start over by pressing the New Game Plus button. It's every bit as good as Breath of the Wild, but in a different way.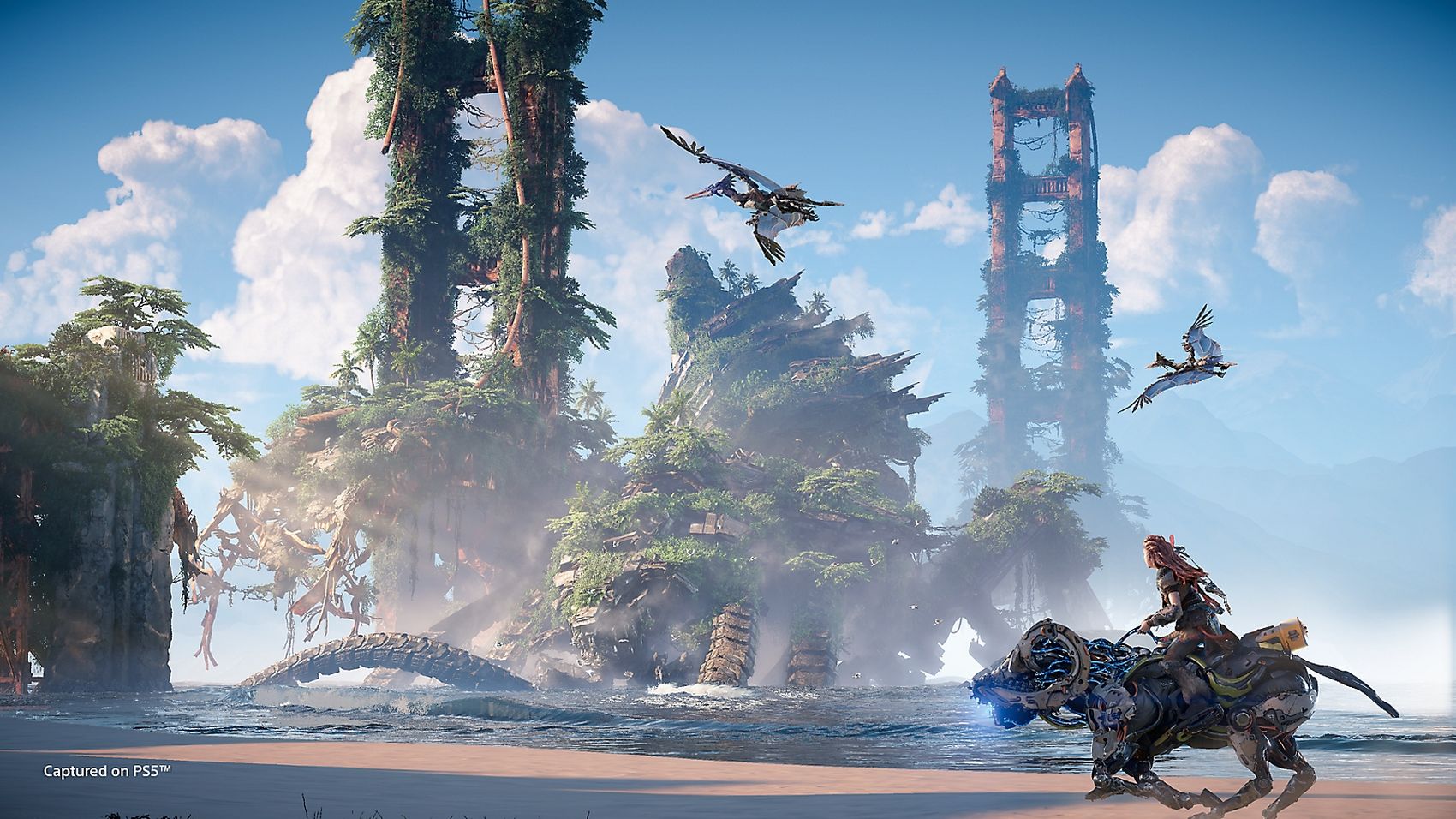 I think it will look back as one of the most important games of this decade even though we're only two years old. I think anyone else releasing a medieval fantasy action RPG in the near future needs to bite their nails seriously now (sorry, Final Fantasy 16). It's no surprise that it has garnered industry attention and will dominate conversations for weeks or months to come. Just like Zelda did.
But… there sails Horizon, a great game, into the middle distance of both my and the public consciousness. I haven't seen a tweet about it this week. Everyone just posts their wins, their jokes, and their crushing failures on The Lands Between.
As for me? Well, I try to keep Horizon at the forefront of my mind and make a note to come back to it sooner rather than later to avoid the inevitable, ever-growing temptation to wait for PC. Whether I can pull that off will likely depend on the rest of this year's release schedule. Though Final Fantasy spin-offs, Two Point Campus, Forspoken, Saints Row, Xenoblade, Fire Emblem, Live A Live, and Starfield are already preparing to steal my time — as well as Gran Turismo 7, which now seems to be a must-watch – I know it might not happen.
In Goldfinger, Ian Fleming wrote: "Once is coincidence, twice is coincidence". So I suppose the second time Horizon has swept its attention away from a one-off genre shaker is still just coincidence for now. But from the outside it looks dangerously like a curse – if you believe in something like that. Which is nonsense, of course, but still fun.
So you know… I'm looking forward to Horizon 3 sometime in 2027… and GTA 6 a week later I guess.
https://www.vg247.com/the-curse-of-horizon-has-struck-again-with-forbidden-west The Curse of Horizon has struck again with Forbidden West