News
The governor of New Mexico issues a health order banning the carrying of weapons in Albuquerque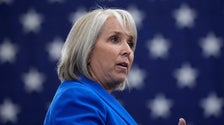 ALBUQUERQUE, N.M. (AP) — New Mexico Gov. Michelle Lujan Grisham issued a public health emergency order Friday that bans the open and concealed carry of firearms in Albuquerque for 30 days amid a spate of gun violence.
The Democratic governor said she anticipates legal challenges but feels compelled to act in response to gun deaths, including the fatal shooting of an 11-year-old boy outside a minor league baseball stadium this week.
The gun ban is tied to a violent crime threshold that only the Albuquerque region currently meets. Police are exempt from the temporary ban on carrying firearms.
Lujan Grisham said the restrictions "will present incredible challenges to me as governor and as a state."
"I welcome the debate and fight about how to make New Mexicans safer," she said at a news conference attended by top law enforcement officials, including the district attorney for the Albuquerque region.
Lujan Grisham pointed to several recent shootings in Albuquerque. Among them was a road rage shooting outside a minor league ballpark on Wednesday that left 11-year-old Froyland Villegas dead and a woman critically injured when her vehicle was riddled with bullets as crowds were leaving a night game.
Last month, five-year-old Galilea Samaniego was fatally shot as she slept in a mobile home. According to police, shortly before 6 a.m. on August 13, four teenagers entered the trailer park in two stolen vehicles and opened fire on the trailer. The girl was hit in the head and later died in hospital.
The governor also cited the August shooting of 13-year-old Amber Archuleta in Taos County. A 14-year-old boy shot the girl with his father's gun while they were at his house.