Games
The retirement of Elden Ring made me give Godfall another chance and I hate myself for it
I wish I could start somehow elden ring fresh. I don't mean just start another run; I want to repeat the first time I experienced this magical game. I want to rediscover how everything works all over again. Lose yourself in its open world without knowing what's around every corner. I wish I could forget all the tiny details that got me hooked so I can encounter them again for the first time.
But I can't do any of that. The only thing I can think of is putting enough distance between myself and the Elden Ring, just long enough for me to forget most of it, hoping that when I return I might be able to relive those magical first few hours .
The last time that happened to me was – surprise, surprise! – with another FromSoft game: Sekiro. When I was done with that, I looked for something that could even give a hint. I didn't really find anything that suited me so I just stumbled from one game to another until I finally gave in and played Sekiro from start to finish (and again).
The scenery is a bit different this time, so I'm facing a similar dilemma after spending over 150 hours in Elden Ring. Knowing that nothing could ever really come close, I decided to reconsider games that could recreate some of his sentiments instead. Perhaps one game could offer similar or better combat, or someone else's world could convince me to spend hours exploring it.
One game I've always wanted to get back into and give another chance at is godfall. I've been keeping an eye on Godfall since it was revealed and was really looking forward to its release. I was there on the PC the first day… and it was a big disappointment. I had obviously built it up in my head to the point where it wasn't enough. I found its combat fun at a basic level, but marred by several insane choices that constantly undermine it. Its structure relied heavily on visiting the same static maps over and over to advance the story.
These narrow zones did not invite exploration, offer secrets, or impress with their sheer beauty. They were all self-contained, predictable corridors of varying sizes, twisting through the same few puzzles and enemy types allowed by the realm they reside in.
Godfall was a PS5 launch game in November 2020. More than a year and a half later, the game came to Xbox along with its biggest (and likely final) update ever. I thought now would be a good time to really try the game in a new and honest way.
It didn't take long for me to start enjoying it again, especially as the gameplay changes made since then quickly became apparent. One of the most annoying mechanics in the original version was how your character could get knocked on the butt by any enemy attack. This is a lot less of an issue now that it's limited to specific attacks and you even get a time window to reduce that stagger.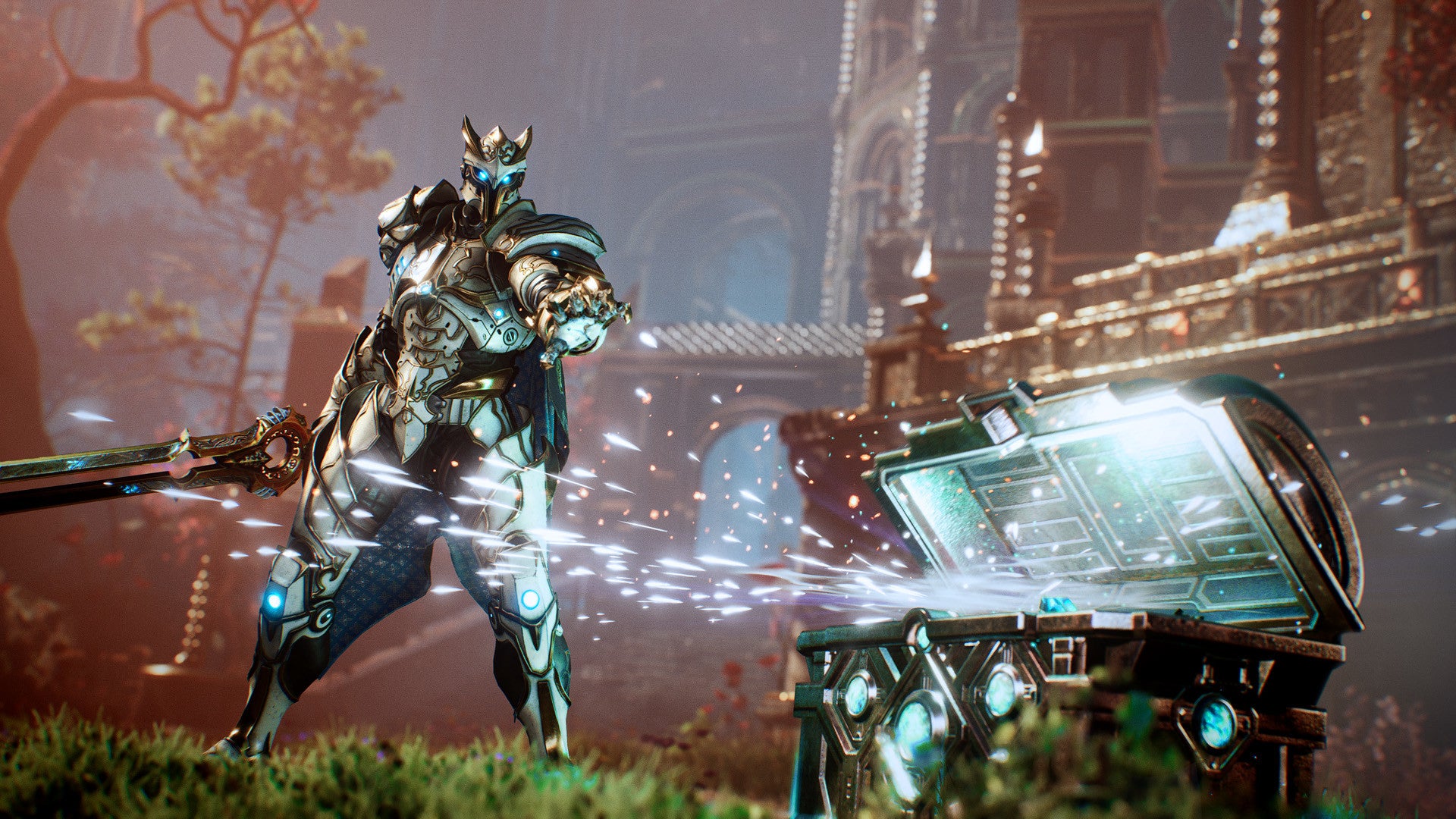 Godfall has also gotten a lot better at communicating what attack is coming your way, clearly explaining what you can block or parry and which ones you need to dodge. This improved the combat's readability, but it only went so far.
Pretty quickly I ran into the same issues that had me yelling expletives in November 2020. Godfall's camera is still terribly tight. Even after you pull the FOV all the way out, the camera keeps closing in on you when you attack an enemy. It's sort of the same problem that God of War 2018 had and the developer of Godfall implemented the same solution.
Of course, these are indicators that warn you of off-screen attacks. While I managed to endure that in God of War, largely because the rest of the game got me hooked enough to ignore such a terrible mechanic, I can't do the same for Godfall. For one thing, Godfall's screen is considerably busier. This is a game designed to showcase the power of the PS5, and that intent to excite gamers often overwhelms the rest of the design.
At every moment, the frame is awash with particle effects, excessive shine, bloom, and outrageous flare that make the game look stunning in videos but are difficult to navigate. The attack warnings mentioned above are just drowned out by everything else I've dodged unnecessarily just to avoid getting hit by an enemy I can't see.
This is an issue that could have been mitigated by making some adjustments to enemy behavior or even adding other indicators – like audio cues. Elden Ring, for example, never forces too many enemies to fight you at any given time. If you alert an entire camp, only two or three enemies will attack while the rest stand by behind them. Games do this a lot, so I'm surprised to see that Godfall hasn't made any changes to his overly eager enemies.
Just like I thought back then, I still believe the game's combat works best when you're dueling one or two enemies at most. At that point, many of the camera and enemy aggression issues will be gone, and you'll need to read and react – this is Godfall at its best.
I was also disappointed that so many minor annoyances persist, like the lack of campaign matchmaking (in a loot game, no less!), how your cursor keeps resetting upwards in the inventory screen, how uneven the audio mix is, and how clunky the menus are.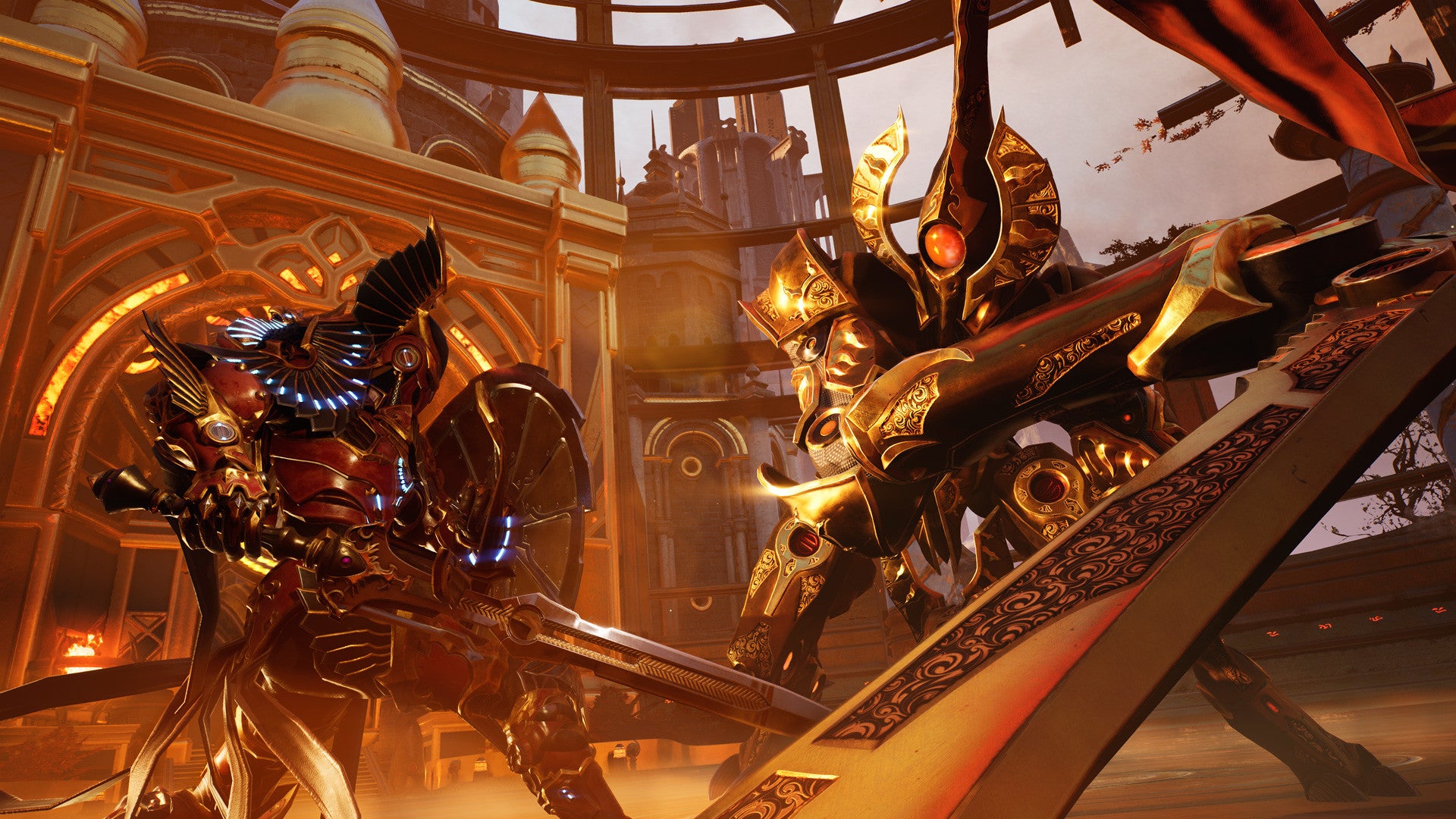 Godfall is a rare game whose individual components are often well made, but the way they are all put together makes for an inconsistent, often aggravating experience. Polarity attacks, the Breach system, Soulshatter damage, weak points, rampage mode, weapon techniques, and the wide range of abilities at your disposal would make Nioh envious. The game is packed with nuanced combat mechanics that can increase the ability cap and make some moments mechanically addicting – if you're not cursing the skies over the other issues.
Godfall has been the subject of jokes for some time; It feels like a gaudy, hollow game that exists to sell new consoles. But I find the whole thing more frustrating than funny. Most of those forgotten console launch games are usually not mechanically worth it. Frustratingly, there's a lot more to Godfall than its visuals.
If the developer makes a sequel, I have no doubt it will be significantly better, so I'll wait for that instead.
https://www.vg247.com/elden-ring-withdrawal-godfall-revist The retirement of Elden Ring made me give Godfall another chance and I hate myself for it