The Rings Of Power Finale Trailer: Sauron's Name Has Been Sounded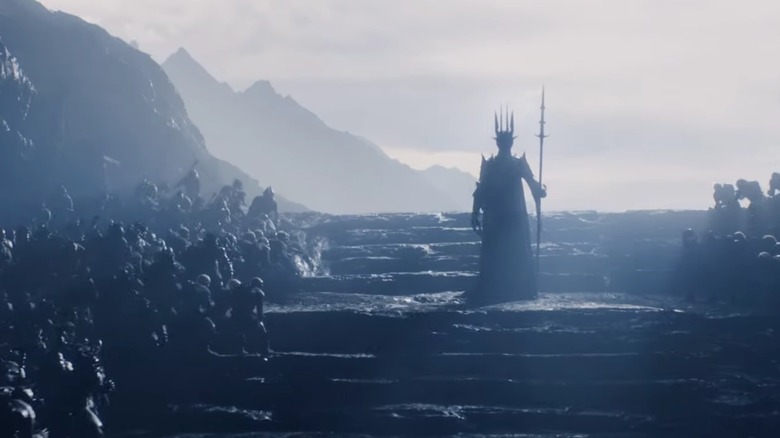 "Lord of the Rings: The Rings of Power" debuted its trailer for the season's finale at New York City Comic Con today, and it teases the moment we've all been waiting for: could be, everyone seems to be saying the S- word. While the honest two-and-a-half-minute trailer is mostly comprised of footage we've seen previously throughout the season – it's more of a hot reel than a genuine preview – it includes a few new snippets of what's to come in next week's finale.
What will happen in Middle-earth after Mordor is created? Are our heroes safe, or will some of them not survive this season? Most importantly, will the finale spend time on scenes where Durin (Owain Arthur) and Elrond (Robert Aramayo) are just brothers? Check out the trailer below for some of the flash and you'll miss out on the season's final episode.
Watch the end-of-season trailer for the rings of power
While it looks like there's some convoluted editing here that combines lines we've heard before with moments that still pass, it's clear that the show's eighth episode will bring some answers on at least one front: the identity of Sauron, the Dark Lord, who will eventually pretty much ruin the entire world. The trailer gives us some mixed messages about what that exact identity is, as it includes the line "I'm not a god – not yet a god," which we know is said by Adar ( Joseph Mawle), followed by live footage of the trio of mysterious mystics we know watching The Stranger (Daniel Weyman). "In the end you will know who you really are," they said in unison, "for you are Lord Sauron."
While it looks like we'll be getting some big heroic moments for Arondir (Ismael Cruz Córdova) and Galadriel (Morfydd Clark), the trailer ends with a reference to the original trilogy, as we see it. Molten liquid is poured into the mold. Celebrimbor (Charles Edwards) said: "We're on the cusp of crafting a new kind of power, reminding viewers that there are still some very special rings in our future.
Hopefully, the finale will answer some of the questions that remained during a brilliant but exhausting first season. The series bends and expands on the Tolkien lore in interesting ways and presents heroes worth waiting for, but personally I think some plots are getting tedious as they stretch across so many episodes.
The final season of "Lord of the Rings: The Rings of Power" will stream on Prime Video starting next Friday, October 14, 2022.
Continue reading: The best Lord of the Rings characters not in the movie
The post The Rings of Power Finale Trailer: Sauron's Name is In the Air appeared first on / Phim.
https://www.slashfilm.com/1044528/the-rings-of-power-finale-trailer-saurons-name-is-in-the-air/ The Rings Of Power Finale Trailer: Sauron's Name Has Been Sounded