The Ukrainian army successfully liberated 40 towns and villages in the Kharkiv region
Ukraine has liberated more than 40 towns and villages in its Kharkiv Oblast, officials said, days after the country's armed forces launched a counter-offensive against Russian-held parts of northeastern Ukraine.
"We liberated a large part of our territories in Chuhuiv, Kupiansk and Balakliya districts. The liberation of the settlements in the Izyum district continues," said Oleh Synyehubov, the governor of Kharkiv Oblast, in an interview with the Ukrainian publication Dumka Sunday.
Synyehubov, who is also the head of the region's military administration, said dozens of settlements have already been liberated, but he was only allowed to speak about 40 of them.
"We just can't announce it [the real number of liberated settlements] taking into account the interests of the ongoing military operation of our armed forces," he said.
The armed forces of Ukraine on Tuesday launched a counter-offensive on Russian-held territory in the Kharkiv region.
In a video address delivered the following day, Ukrainian President Volodymyr Zelenskyy refused to name the settlements liberated in the operation, saying it was "not the right time to name those settlements".
Ukraine has retaken 2,000 square kilometers (770 sq mi) since the counteroffensive began in Kharkiv, Zelenskyy said in another address on Saturday.
A map presented by the Russian Defense Ministry (MoD) during a daily briefing for journalists the next day showed that the Russian military had withdrawn from Kharkiv, according to a report by the independent Russian news agency Meduza.
An "operation to reduce and redeploy troops" is underway, the ministry said when commenting on the withdrawal.
"The Russian army is demonstrating its best these days – showing its back. And of course it's a good decision for them to run," Zelensky was quoted as saying by CBC after the Russian Defense Ministry officially announced the Russian military's withdrawal from almost all of Kharkiv.
Russia launched strikes in the region in what Ukrainian officials described as an "act of revenge" for Ukraine's recent gains.
The attacks left much of Kharkiv without electricity and water, The Guardian reported.
There were also reports of power outages in neighboring Sumy and Poltava regions and in Dnepropetrovsk, but Zelenskyy's office said power has been restored.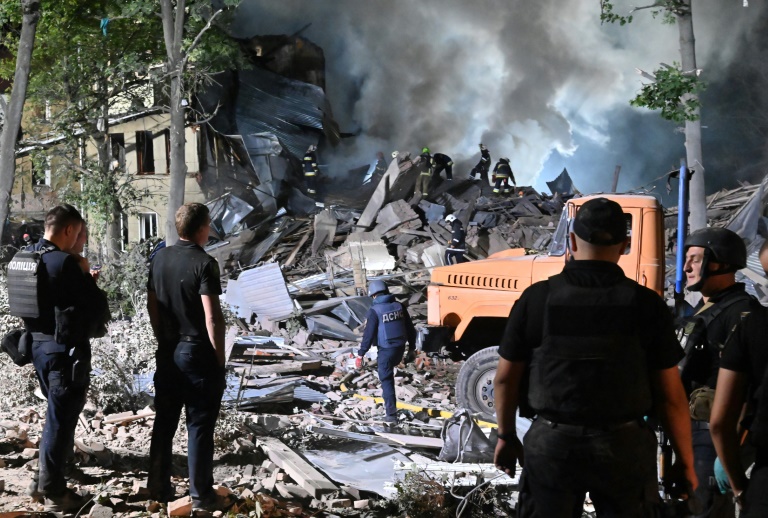 Related Articles
https://www.ibtimes.com.au/ukraine-army-has-successfully-liberated-40-towns-villages-kharkiv-oblast-1838223?utm_source=Public&utm_medium=Feed&utm_campaign=Distribution The Ukrainian army successfully liberated 40 towns and villages in the Kharkiv region