News
The video shows the gang doing a U-turn after the flight due to diarrhea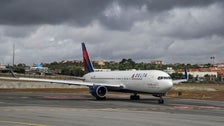 Video footage of the aftermath of the incident that forced a Delta Air Lines flight to turn around on Friday has surfaced on Twitter, showing just how disastrous the situation was.
Transatlantic flight DL194 flew from Atlanta to Barcelona on Friday, but two hours after departure, the Airbus A350 was diverted with a back to Atlanta due to a "medical issue on board". Passenger who had severe bouts of diarrhea "All the way through the plane."
In the footage that emerged Tuesday, the plane's seats are deserted, with sheets and pillows spread out on the chairs. Along one aisle, streaks of reddish-brown spots can be seen on the blue carpet, partially covered by paper napkins.
One of the pilots had told Air traffic control announced on Friday that the situation was "a biological hazard problem". People who claimed to have been involved in the flight or who knew others on the flight repeated descriptions of the incident on Twitter.
"Both my wife and I were on the flight. It was a mess," said one user wrote. "The pilots made the right decision to turn back. The ground team tore out the carpet and put in a new one. Considering the circumstances, the ground team did an excellent job [with] the flight attendants and the pilots."
"My partner was on that flight! It was pretty bad. It was dripping down the aisle and smelled awful," said another user wrote. "The vanilla-scented disinfectant just made it smell like vanilla. After landing, the plane was thoroughly cleaned. They didn't leave until around 2:30 a.m.."
HuffPost had previously asked Delta for clarification on the medical issue that led to the plane's diversion, but did not immediately receive a response.
After the plane was cleaned in Atlanta, the flight to Barcelona resumed and completed around 5pm on Saturday – eight hours later than originally scheduled insider.