News
"This is a mess": Former prosecutor angers Trump over new secret document bombshell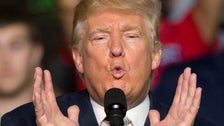 The employee, Molly Michael, told federal investigators that the cards had visible classification markings and were used during the former president's time in office to inform him about international affairs. according to the report.
"This is a mess," former prosecutor Charles Coleman Jr., a legal analyst for MSNBC, said in response to the development.
"He didn't try to recycle paper? "He didn't try to keep it green?" asked "The 11th Hour" host Stephanie Ruhle.
"No, he's not a conservationist at all," Coleman Jr. replied.
The report could doom Trump and "be used against him" because it would demonstrate his utter contempt for U.S. state secrets, Coleman Jr. said.
Trump has denied any wrongdoing.
Trump is accused under the Espionage Act of mishandling classified documents at his Mar-a-Lago resort after he left the White House. He has pleaded not guilty.