News
This Londontown nail concealer saves us tons of money on manicures
HuffPost may receive a share from purchases made through links on this page. Each item is independently selected by the HuffPost Shopping team. Price and availability subject to change.
When my colleague Lydia O'Connor, a senior reporter here at HuffPost, recently shared that she was taking a break from gel manicures and using a "nail concealer" instead, I was immediately intrigued. I've been looking for ways to keep my beauty expenses down, but since I'm terrible at applying nail polish and keep my feet in flip-flops year-round, I never thought I might be able to cut down on regular pedicures.
But her recommendation – Londontown's Illuminating Nail Concealer Treatment for $20 – was a total game-changer and is currently available at both Amazon and Ulta for $14 in three popular colors. The concealer is similar to a varnish, but instead of color, leaves a transparent milky veil that leaves nails looking like a super healthy version of their natural self, covering imperfections and leaving them looking radiant and perfect. It's also buildable, so you can apply as much or as little coverage as you need. With that one Microplane foot file And Gel socksI skipped the trip to the nail salon and saved tons of money without having to hide my feet in tight shoes. Even my fingernails – so hopeless I don't even bother buying manis – look great with it.
"I'm obsessed with this product," O'Connor told me. "A single coat of paint shows, 'Does she wear nail polish or does she just have flawless doll nails?'" Two coats give a milky, slightly iridescent finish that I love.
"It's basically foolproof to apply. The formula isn't streaky at all and the brush is quite wide, allowing you to cover your entire nail in one seamless stroke. This is the only paint that has ever looked decent when painted with my non-dominant hand."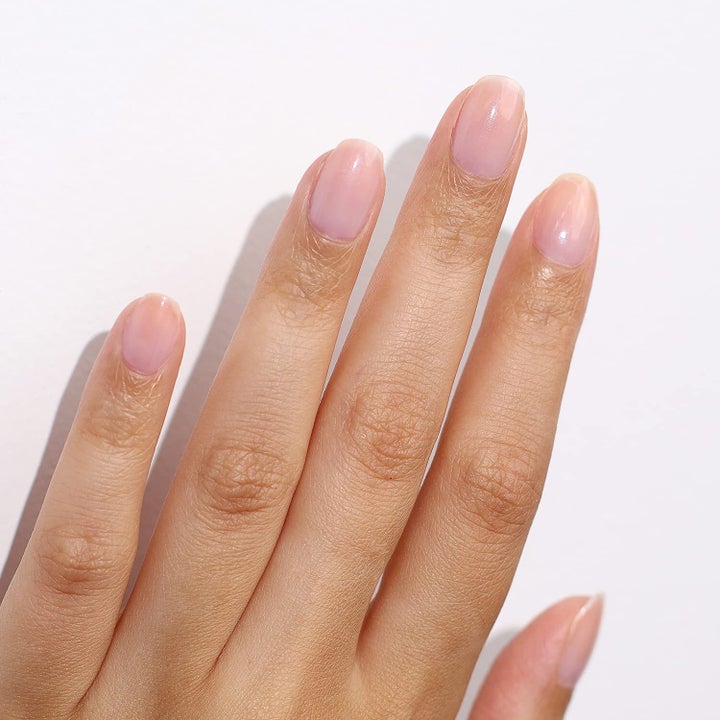 Turns out she's not the only one in the office excited about this product. Kristen Aiken, HuffPost's director of life and commerce, also uses it, along with Greta Geiselman, our director of office services.
"I love this stuff!" said Aiken. "I have really weird nails (the white ones are jagged because I use my hands too much and have nail bed trauma) and I'm too tough to paint my nails because they come off immediately, but I love the nail concealer, because it looks natural, but simply better. And you can't see it when it starts to chip."
"It's so easy to give yourself a manicure with this stuff," O'Connor noted, saying it gives both her nails and her wallet a break. "I recently broke the nail rule and pulled off my gel manicure when it started chipping. This means my now brittle nails will always look clean and tidy as they grow out," she said.
The concealer is available in four different colors to suit different skin tones: Bubble, Pink, Milky and Quartz. Each formula contains optical brighteners that give nails a subtle shine and conceal imperfections and discoloration, as well as plant extracts and a nourishing complex.
We're not the only ones obsessed with it: Amazon reviewers gave Kur 4.6 out of 5 stars and noted that it goes beyond just using plain, regular nail polish.
"I was definitely skeptical about whether this polish would be different from any of the countless neutral Essie shades I've tried since the '90s – ballet flats, like linen, etc. – but I decided to give the milky shade a try & I am so glad I did!!!" wrote one Amazon reviewer. "My nails look incredible. I'm not even sure how to describe why, but they look very natural and clean. It's been a week since I've worn two layers and not a single bubble or bump appears around the edges. A coat of paint looks really great too. I'm excited about this stuff…I'm so happy."