Tray Racers is riotous, simple fun
If you've ever found joy in rolling down a grassy hill or sliding down snowy slopes in a homemade sled, then Tray Racers might be for you. It's a game about a bunch of kids racing down sand dunes – what else? – a tray, all aim for the fastest time.
From Bit Loom, the creators of Phogs (the puzzle game about a limp, two-headed canine creature), Tray Racers shares a similar sense of colorful whimsy. There's even a lizard dog named Scrump that you can pet between races.
It's also a lot of fun to play, although I'm not sure how long that will last beyond a few rounds. As a free-to-play game coming soon to PC and Switch (with crossplay), it's at least an easy recommendation for a quick try.
Perhaps the greatest benefit of Tray Racers is how intuitive it is. The controls are simple: use the stick to steer, lean forward to drive down slopes and lean back to accelerate over hills. Tricks can be performed mid-air to gain a boost upon landing (up to three times), and running near obstacles also gives a near-boost boost. And that's essentially it.
From there, players race against up to 16 others on procedurally generated tracks made up of a variety of biomes, though they all form a consistent, sandy, tropical world. There are forests with giant cacti, rocky gorges, wooden village huts and hot springs with geysers that shoot you up in the air. It's crisp and vivid, and features some quirky psychonaut-like character designs.
Races consist of two phases. Phase one is practice, where the racers have five minutes to familiarize themselves with the state of the country and set a fast time. Emerging (obviously) from a sandworm, racers can test different routes down the random slope, switching left and right to see which of the multiple paths turns out to be the quickest. And that's important, not only in preparation for the last race, but because half of the best time in practice goes into the final ranking.
Then there's the race. After five minutes, the racers are taken back to the summit by their worms for one last try; a true test of your twitch skills when dodging obstacles (and other racers) as well as your prior planning. It's chaotic fun: can you find your perfectly planned path, or risk a last-minute strategy change? And when the end result is added up between the two stages, there's an enthralling unpredictability.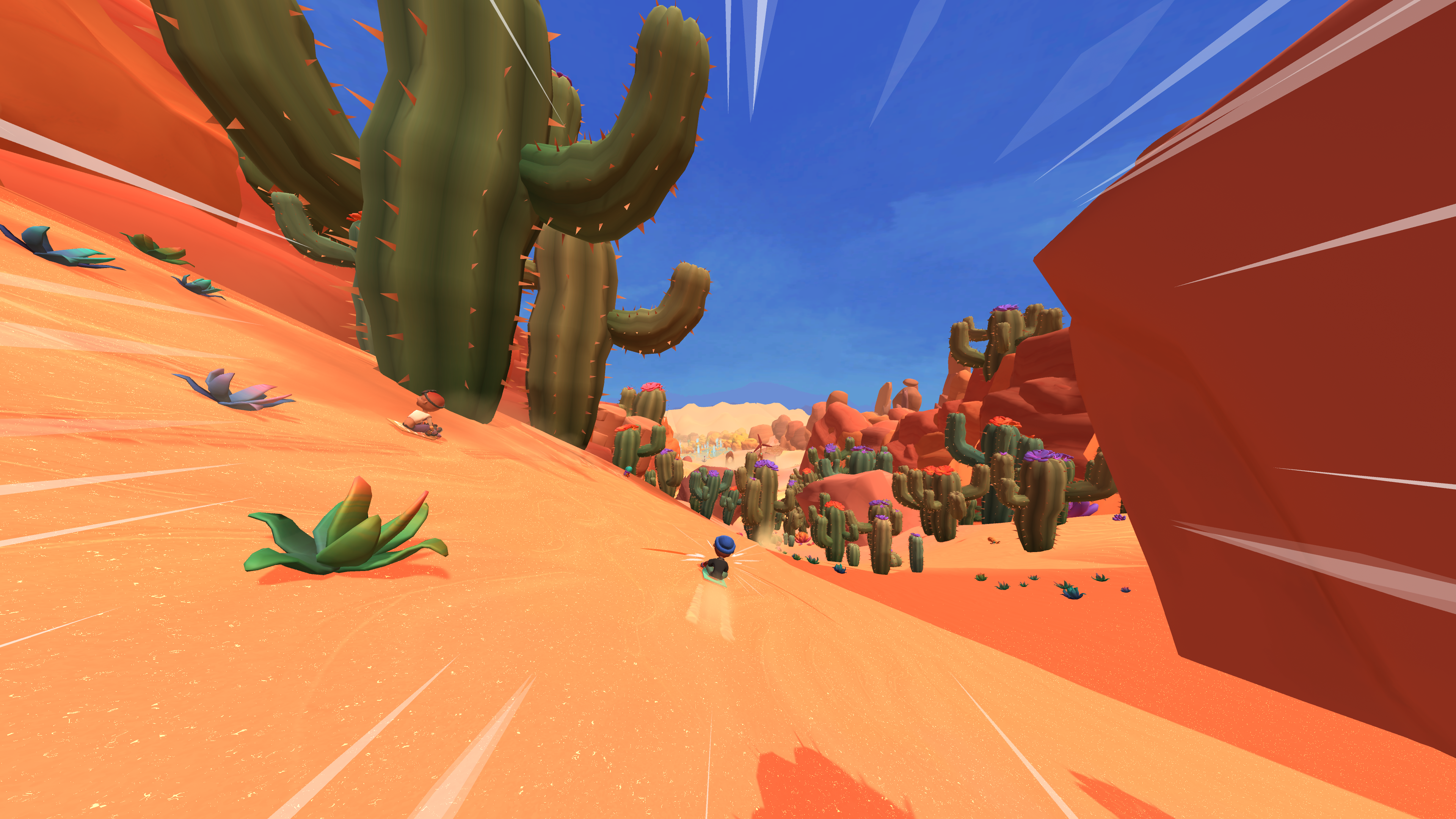 It reminded me a bit of the N64 classic Snowboard Kids – only without the power-ups. Tray Racers is about hurtling down the slope rather than doing laps, weaving across sandy hills and giggling like a kid along the way.
Between phases, players can stay in the campfire lobby. Here you can check the leaderboard and customize your character, as well as dance and play a musical instrument before heading to the next race. It's barebones but fits the game's simplistic tone.
Grab your tray and get ready to race!

We are very excited to announce that Tray Racers! will be part of it #SteamNextFest from 6.2

Gather your friends to race together through crackling sand dunes, bouncing cactus forests and more!🌵

Now wish list 👉 pic.twitter.com/v1LDzTgN4V

— Tray Racers! ☀️🌵💨 (@TrayRacers) January 25, 2023

To see this content, please enable targeting cookies.


Online racing is the primary game mode and unfortunately there isn't much else, even without local multiplayer. All customization options are unlocked from the start, meaning anyone can dress up their character any way they want from the start (and none of the options are gender specific), but there's also nothing to unlock for long-time players. There's a single player mode with a weekly global leaderboard, but beyond that there's not much to strive for.
Crucially, Tray Racers has that one-more-go factor thanks to its immediacy. If you're looking to indulge your inner child, this is worth a look.
And while there's no ray tracing mode, a deep lore is that the tutorial is hosted by Ray Tracer, the fastest racer alive. In fact, the visual tech provided inspiration for the game, as a Bit Loom spokesperson told me: "You hit the nail on the head, the game idea originally came about when one of us said, 'Forget ray tracing , we're all about it Tray Racing!'"

To see this content, please enable targeting cookies.


https://www.eurogamer.net/tray-racers-is-riotous-simplistic-fun Tray Racers is riotous, simple fun