News
Trump claims (again) that you have to show ID to buy groceries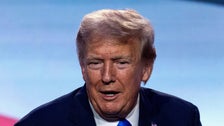 Former President Donald Trump declared that people need ID to shop for groceries, repeating a wild claim he made at previous rallies on Friday.
"You have a voter ID to buy a loaf of bread, you have an ID to buy a loaf of bread," Trump said, arguing in remarks at the Concerned Women for America summit in Washington that Democrats are "desperate " were to stop his movement. Direct current
The former president also received pushback for another grocery store claim when he said grocery stores were "collaborating" with federal workers during the 2019 partial government shutdown.
"Local people know who they are when they're grocery shopping and everything else… and that's what happens in times like this – they know the people, have dealt with them for years and work with them." he said at the time.
Social media users mocked the former president's recent comments on food, joking that they "carded for pumpernickel"Lastly.