News
Trump says banning abortion without exception is a losing strategy
Donald Trump pivoted to the issue of reproductive rights in a new interview, saying hardline Republican demands on the issue are a losing strategy Falsely accuse Democrats that they support abortions "after birth".
Meanwhile, the former president tried to distance himself from the Republican Party's most vocal abortion opponents an extensive interview on this week's episode of "Meet the Press," in which he said the idea of ​​a federal abortion ban "without exceptions" was unrealistic and unpopular.
"I think Republicans are very inarticulate about this issue," Trump told NBC's Kristen Welker in the segment that aired Sunday. "I look at some of them with no exceptions, etc."
"Except in certain parts of the country, you can't — you're not going to win on this issue," he said. "But you will win on this issue if you find the right number of weeks."
Trump did not give a specific number and repeatedly accused Democrats of supporting abortions well into the third trimester of pregnancy or even "after birth."
In fact, late-term abortions are extremely rare. According to 2019 data According to the Centers for Disease Control and Prevention, fewer than 1% of abortions occur after 21 weeks.
Although Florida Gov. Ron DeSantis falsely claimed in July that "some liberal states actually perform postpartum abortions," researcher Dr. Katherine White debunked his claim with Politifact telling the site that "there is no such thing as an abortion after birth."
When Welker asked Trump whether the matter should be decided at the federal or state level, Trump said, "It could be federal or state. "I honestly don't care."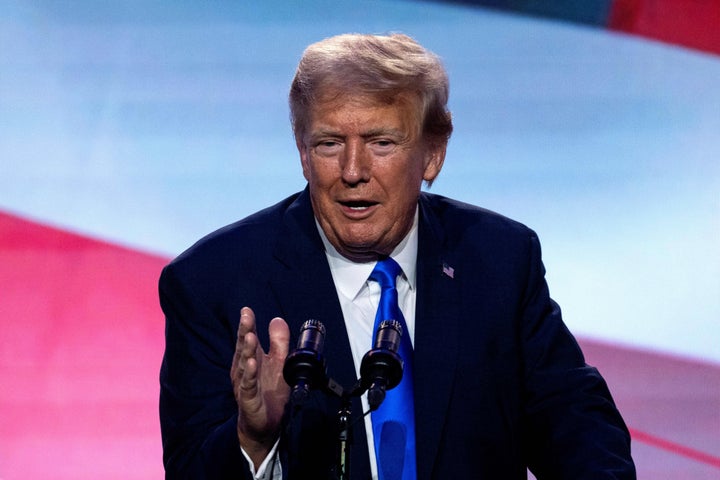 Trump seemed to suggest he could help Republicans and Democrats negotiate a deal, telling Welker: "We'll agree over a number of weeks or months or however you want to define it."
"Both sides will come together and both sides – both sides, and this is a big statement – ​​both sides will come together," he said. "And for the first time in 52 years, you have a problem we can put behind us."
Trump also discussed his Republican primary opponents and their approach to reproductive rights. He said DeSantis' six-week abortion ban in Florida was "a terrible thing and a terrible mistake" and claimed he caused former Vice President Mike Pence to relent his "no exceptions" attitude on the subject.
Since the Supreme Court ruled on Roe v. Wade repealed federal abortion protections, Republicans are trying to think about how to address the issue at the polls in a post-Roe world.
In April, Trump was sharply criticized by the Susan B. Anthony List, a group that opposes abortion rights, for suggesting that the issue should be decided at the state level, a position the group described as "moral "not justifiable".
Trump responded by acknowledging the Supreme Court's decision in last year's landmark Dobbs v. Jackson case.
"Republicans have tried to get this done for 50 years but couldn't get it done," campaign spokesman Steven Cheung told the New York Post. "President Trump, considered the most pro-life president in history, has done it."
Watch Trump's full interview on Meet the Press and read the transcript Here.