News
Trump says "it was my decision" to challenge the 2020 results and did not "respect" his lawyers.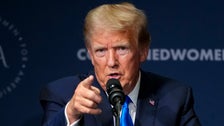 Former President Donald Trump said in a new interview with NBC News on Sunday that he doesn't "respect" his lawyers and that it was his decision to challenge the results of the 2020 election, which he lost to Joe Biden.
"The most senior lawyers in your own administration and your campaign told you it was over after you lost more than 60 legal battles," "Meet the Press" host Kristen Welker said during the broadcast. "Why did you ignore them and decide to listen to a new outside group of lawyers?"
"Because I didn't respect her," Trump replied. When Welker noted that he had hired them as his legal advisers, Trump shot back: "You hire them, you've never met these people."
"You get a recommendation. "They turn out to be RINOs, or they turn out to be not so good," he said, using an acronym for "Republican In Name Only." "In many cases I didn't respect them. But I respected others. I respected many others who said the election was rigged."
The former president went on to say he listened to himself and those who supported his false claims of voter fraud when he "saw what was happening" during the 2020 race.
"My instincts are a big part of it. That's what got me where I am: my instincts," he said.
"But are you ultimately in charge, Mr. President?" asked Welker.

"Whether I believed it was rigged or not? "Oh, sure," Trump said. "…It was my decision. But I listened to some people. Some people have said that."
Trump has been indicted on two counts related to his efforts to stay in power. Special Counsel Jack Smith charged the president with multiple federal crimes, described as a broad criminal conspiracy to defraud the United States and obstruct an official proceeding. The former president was also charged in Georgia with more than a dozen crimes in a sweeping racketeering case that also named 18 other defendants.
Welker went on to ask whether Trump was concerned about the flood of investigations into his conduct, which include state charges in New York over hush-money payments to a porn star and federal charges over his handling of classified documents.
"When you go to bed at night, are you afraid of going to jail?" she asked.
"No, I really don't. "I don't even think about it," Trump replied. "I'm probably built a little differently."