News
Trump Shares Menacing Video: 'If You Make Out With Us'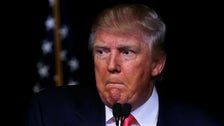 Donald Trump reposted a video on his Truth Social platform on Thursday, in which he can be heard saying, "If you make out with us, if you do something bad to us, we will do things to you that have never been done before."
The former president's threatening words overlaid on a black-and-white image of his face and his 2024 campaign logo.
The clip was originally shared by user @AmericanAF, who says in his bio that it is the "OFFICIAL MAGA HQ" that is "veteran run."
The sound is actually from a Conversation 2020 The Republican lead candidate for 2024 had spoken about Iran.
Trump shared the video without the Iran context as he is reportedly facing another indictment, this time in connection with Special Counsel Jack Smith's investigation into the US Capitol riots.
The twice-indicted Trump has frequently angered the legal scrutiny he has faced since leaving office, and earlier this week claimed Smith sent him a pointed letter as part of the investigation. He called it "terrible news".