News
Trump's horrific swipe at Paul Pelosi draws laughter from California GOP crowd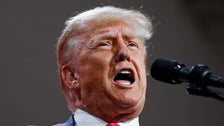 "We will stand up to crazy Nancy Pelosi who ruined San Francisco. By the way, how's your husband doing, does anyone know?" Trump said in a speech to the California GOP convention.
"And she's against building a wall on our border, even though she has a wall around her house, which obviously hasn't worked out very well."
Trump was referring to the attack in which Paul Pelosi was seriously injured after a man entered the Pelosi home in San Francisco in October 2022 to allegedly kidnap the current Speaker of the House of Representatives.
The suspect, David DePape, pleaded not guilty to charges related to the attack, including attempted murder.
Social media users on X (formerly Twitter) mocked the former president for his "disgusting" attacking Paul Pelosi and also shocking the audience for laughing at his remarks.