Twitch streamer MissMikkaa plays Elden Ring with a real guitar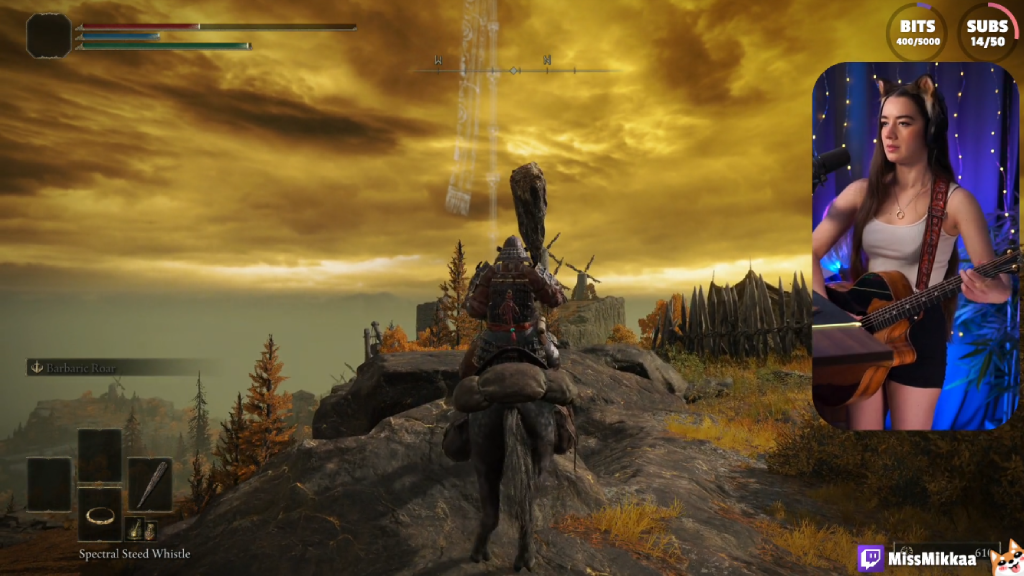 It started with a one-armed run, defeating every Elden Ring boss with just one hand. Then Twitch streamer MissMikkaa did the same, but kept her character level one throughout.
Next, she completed FromSoftware's epic with a dance floor. Then she did it across two games with a dancepad and a controller at the same time.
Now she's taking her musical endeavors in Elden Ring to a whole new level by playing the game with a guitar. Does MissMikkaa's talent have no limits?
MissMikkaa isn't the first person to play the game with a musical instrument: last June, brave Tarnished Anna Ellsworth used her harp to defeat Margit.
Yet with her pedigree for bizarre control methods, MissMikkaa's guitar run is certainly one to watch.
So how exactly does it work?
"I use a program called Abject Audio Inputs that can bind mouse and keyboard input from audio frequencies," MissMikkaa told Eurogamer. "I plugged my guitar directly into my goXLR [mixer] so the software only captures the audio from the guitar. Then I can see in the software itself what frequency the guitar is putting out when I play it."
It took some experimentation to figure out which notes or chords would work best.
Says MissMikkaa: "Originally my idea was to only use chords to play the game so that it would be comfortable for viewers to hear, but I quickly realized that chords were complicated to play as they would recognize multiple frequencies at once.
"However, the use of single notes was much more consistent. So I isolated several chords that didn't have overlapping frequencies and mixed them with single notes as in-game actions. I ended up with about seven chords and six notes, but that can change over time."
Being a guitarist herself, it seemed like a natural next step for her stream to play Elden Ring as some sort of bard using the instrument.
"I've played guitar most of my life! It's always been a very casual hobby of mine that I don't share with too many. I've only shown my guitar a few times on my stream," she said.
It's certainly a tricky way to play the game. MissMikkaa was watching her stream and had trouble keeping her character under control. She described it as "the most inconsistent, toughest run yet," but at least there's some melodic music alongside the stream.
So far she's reached Rennala at Raya Lucaria Academy, but what we're all waiting for – of course – is the inevitable guitar ditch with Malenia.
"I'm definitely looking forward to enchanting Malenia with my melodies!" jokes MissMikkaa. "I think my strategy will be the same as any other run: endurance. As for the in-game strategy itself, I'll probably go for something tanky with a side of aggression to break her stance. I'm sure once I've become fully accustomed to playing a guitar, it's going to be just like the other challenge runs, albeit a little more inconsistent."
You can watch MissMikkaa's guitar ride over her Twitch Channel.
We made it! Killed Margit with an acoustic guitar today! This might be the most inconsistent and toughest run yet hahaha very funny! The plan is to beat Elden Ring using just the guitar as a controller. pic.twitter.com/xF9FB8JeBq

– MissMikkaa (@MissMikkaa) February 2, 2023

To see this content, please enable targeting cookies.



To see this content, please enable targeting cookies.


https://www.eurogamer.net/twitch-streamer-missmikkaa-is-playing-elden-ring-with-an-actual-guitar Twitch streamer MissMikkaa plays Elden Ring with a real guitar