News
"Two Republican rivals clash over curtains in debate"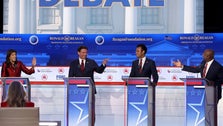 The second Republican presidential debate took a bizarre turn when the question of Latino support quickly turned to the issue derailed into a shouting match between former South Carolina Gov. Nikki Haley and Sen. Tim Scott of South Carolina over curtains.
The candidates' heated exchange had to do with the $50,000 curtains at Haley's official residence when she served as U.S. ambassador to the United Nations. According to a 2018 article in The New York TimesDuring the Obama administration, the State Department spent $52,701 on custom-made and machine-made curtains for the U.N. ambassador's residence in Manhattan.
During Wednesday's debate, Scott accused Haley of spending $50,000 on the curtains as ambassador, which Haley quickly corrected.
"On the curtains, do your homework, Tim, because [Barack] Obama bought these curtains," Haley said.
"Did you send her back?" Scott challenged as the two continued to bicker over each other.
"It belongs to the State Department [curtains]. did You send them back? You're the one who works in Congress," Haley replied, later adding that the curtains were hung at the ambassador's residence before her arrival in 2017, during the Trump administration. "You're scratching right now."
The dispute was among other things intense back and forth between Scott and Haley and other GOP candidates on stage at the Ronald Reagan Presidential Library in Simi Valley, California.