UFC 280: Aljamain Sterling on TJ Dillashaw and his rivalry with Petr Yan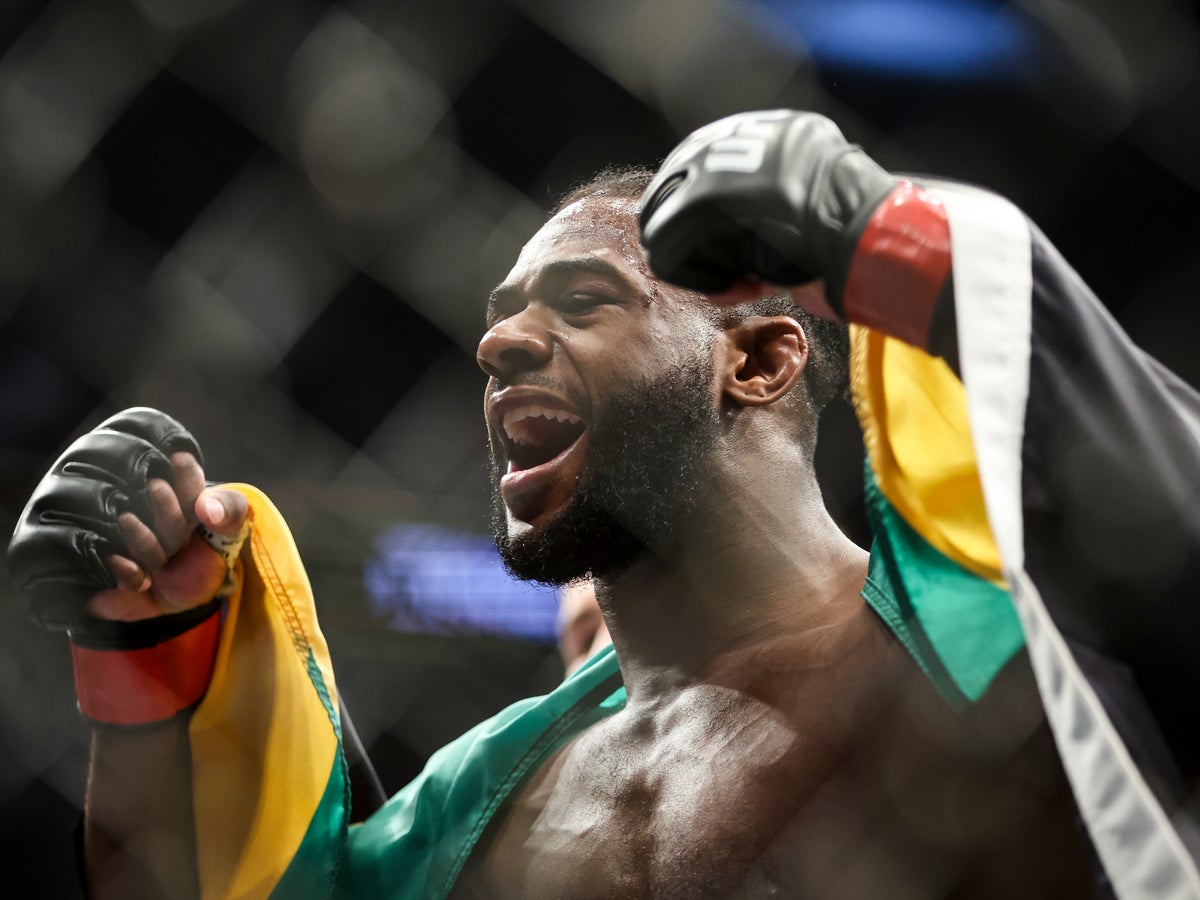 Aljamain Sterling is almost where he always wanted to be. More importantly, the UFC bantamweight champion is exactly where he needs to be.
"I thought I would play in the NBA when I was a kid. That clearly didn't work out," laughs the 33-year-old. "I wasn't blessed with heights. Thank you Lord above. My dad is actually 6ft, his brothers are all tall, I'm 5ft 7in. The NBA was my goal when I was in elementary school; As a teenager, I always wanted to be a professional athlete. That was the only thing I saw myself."
Sterling isn't a pro basketball player, but he has nonetheless reached remarkable heights as one of the top pro fighters in the world, now reigning at the top of the UFC's 135-pound division. And although there are no basketball nets in his workplace, he sees their grid-like lacing every day, which defines the structure of the cages in which he competes.
On Saturday, one of those cages will be built at Etihad Arena in Abu Dhabi where Sterling (21-3) will defend his title in the co-main event of UFC 280 – perhaps the most anticipated mixed martial arts event of the year. His opponent will be one of his predecessors: TJ Dillashaw, a two-time UFC bantamweight champion whose second term ended with a two-year drug ban.
Dillashaw (17-4) turned in the gold in January 2019, just before it was announced the American had tested positive for the banned substance erythropoietin – an injectable performance-enhancing drug. Two of Dillashaw's best years were wasted as he sat on the sidelines and aged while MMA continued its own growth before the 36-year-old returned with a controversial decision win over Cory Sandhagen last July – a fight in which Dillashaw suffered a knee injury this has kept him out of the Octagon until now.
"It's going to be nice to smack a guy in the face like that," says Sterling The Independent"because I really still think I can beat him even if he's juiced to the gills.
"I just like to make fun of him because I think he's mentally weak if he has to do that. It's a guy who's clean and came here on the right track versus a guy who had to cut corners and I still think he's cut corners but that's not going to change the fact that we will be locked in a cage and will smack each other in the face. I just think I can do better than that.
"There was no real reserve [in accepting the fight]Sterling adds after mentioning Conor Benn's recent cancellation of action against Chris Eubank Jr – one of British boxing's biggest fights, which was postponed after Benn tested positive for a banned substance.
"Hopefully TJ doesn't ruin the show before we can get in the cage. If he's still cheating, he's cheating; I really don't give up. I just like making fun of him and letting him know how pointless it is for him to do that because it's still not enough to make him my equal."
While Dillashaw's career will now forever be marred by controversy, Sterling has also been the target of fierce criticism from fans – albeit for much less justified reasons. "Funk Master" became bantamweight champion when Petr Yan was disqualified in their title fight last March, with the Russian landing an illegal knee on his downed opponent. Some fans accused Sterling of exaggerating the impact of the punch, causing the fight to be dismissed and the belt wrapped around the 33-year-old's waist.
"I just think people don't think I should be the champion. Guess what? I'm the champion!" Sterling grins. "You have to deal with that! It doesn't work that black and white."
Sterling's critics wished Yan would get the better of the Jamaican-American in a rematch, and while Sterling was recovering from neck surgery last year, the Russian clinched the interim title. That set the stage for the much-anticipated second meeting this April, with Sterling beating Yan to a narrow points win. It wasn't enough to silence all of Sterling's doubters, but it was enough for the champion himself.
"Thank God I came out on the right side with this decision," he says The Independent. "I thought I would be comfortable upstairs. I was kind of idling, so I took less damage. I could have made it more of a 'fight' and people can say whatever they want about mentality; That's very fair, but why take a risk I don't have to and put myself in danger? He pretty much has a gun and I would just give him more bullets to keep shooting at me."
However, Sterling didn't think he needed that result to legitimize his status as champion.
"I've felt like I've been the champion since I beat Sandhagen in 2020," he says, recalling his emphatic early submission of the American. "Everything I got in life I earned with super hard work man. If people don't relate to that or don't respect that, they must be trust fund babies or something. So, sucking sucks. At the end of the day you reap what you sow, you play the hands that are dealt to you."
It's something Sterling has put into practice since he was a teenager, when he dreamed of basketball courts rather than cages.
"Not everyone is blessed with the same tools in life," he says. "I struggled at school, it's just that the way they taught us wasn't ideal for my more hands-on learning style. I honestly thought I had dyslexia once. I can read it just takes a long time to register. I have to read the same thing four times because I forget what the hell I just read! Imagine testing like this.
"But you see I excel in other areas of my life – in terms of common sense, martial arts, just being able to analyze and break things down. You have to take what the Lord gives you and that's what I was able to do. It's all good man. I'm proud, I think the kid growing up – a younger version of myself – if they saw what will become of them they would be shocked and super excited for the future."
That future is now, and that's where Sterling needs to be.
https://www.independent.co.uk/sport/ufc/ufc-280-aljamain-sterling-tj-dillashaw-b2205114.html UFC 280: Aljamain Sterling on TJ Dillashaw and his rivalry with Petr Yan