News
Ukraine replaces the Soviet-era emblem on the towering Kiev monument
KIEV, Ukraine (AP) – The towering Mother Ukraine statue in Kiev – one of the country's most recognizable landmarks – lost its hammer-and-sickle symbol on Sunday when officials replaced the Soviet-era emblem with the country's trident coat of arms .
Erected in 1981 as part of a larger complex with the National Museum of World War II, the 61-metre-tall Mother Ukraine Monument stands on the right bank of the Dnieper River in Kiev, facing east towards Moscow.
The statue is sculpted in the image of a fearless warrior, wielding a sword and shield.
But instead of the hammer and sickle emblem, the shield now features the Ukrainian tryzub, the trident adopted on February 19, 1992 as the coat of arms of independent Ukraine.
Workers began removing the old emblem in late July, but poor weather and continued air raids delayed the work. The finished sculpture will be officially unveiled on August 24, Ukraine's Independence Day.
The transformation also comes with a new name for the statue, formerly known as the "Fatherland Monument" when Ukraine was still part of the Soviet Union.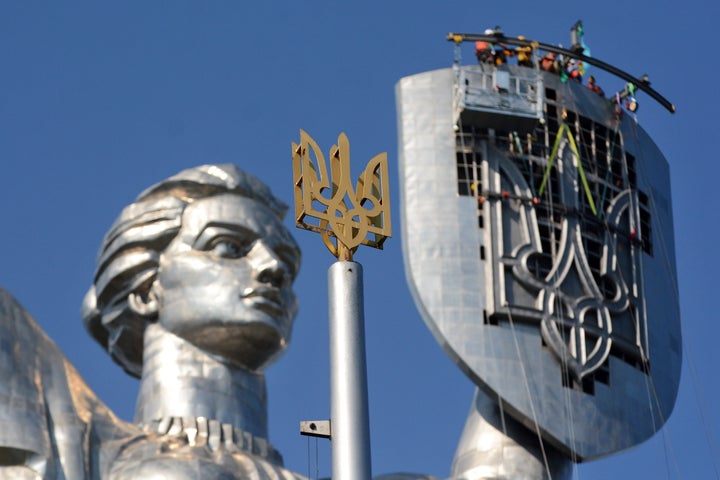 The change is only part of it a long effort in Ukraine to erase traces of Soviet and Russian influence from their public spaces – often by removing monuments and renaming streets to honor Ukrainian artists, poets and soldiers rather than Russian cultural figures.
Most Soviet and Communist party symbols were banned in Ukraine in 2015, but WWII monuments like the Mother Ukraine statue were exempt.
According to the country's culture ministry, released last year, about 85% of Ukrainians supported removing the hammer and sickle from the landmark.
For many in Ukraine, the Soviet past is synonymous with Russian imperialism, the suppression of the Ukrainian language, and the Holodomor, a man-made famine under Joseph Stalin that killed millions of Ukrainians and was viewed as a genocide by both the European Parliament and the United states.
The move away from Soviet symbols has accelerated since Russia's full-scale invasion of Ukraine on February 24, 2022, where asserting national identity has become an important sign of unity as the country struggles amid the horrors of war.
In a statement about the emblem's removal, the website of Ukraine's National Museum of World War II described the Soviet coat of arms as a symbol of a totalitarian regime that "destroyed millions of people."
"Together with the coat of arms, we eliminated the signs of our belonging to the 'post-Soviet space'. We are not "post-Ukraine" but a sovereign, independent and free Ukraine."