Ukrainian army successfully liberates 8 more Russian settlements in Kherson Oblast
According to a report, the Ukrainian army has successfully liberated eight settlements in the southern region of Kherson from Russian troops.
The newly liberated villages in Kherson Oblast include Biliaivka, Davydiv Brid, Khreshchenivka, Liubymivka, Mala Oleksandrivka, Ukrainka, Velyka Oleksandrivka and Zolota Balka, Ukraine's Task Force Pivden wrote in Tuesday's report.
"Following a well-planned and superbly executed military operation to liberate the territories of the Kherson region from occupation, our units liberated, recaptured and restored the Ukrainian state flag in eight settlements of the Beryslav district," the report reads. "Honour to the liberating soldier. Let's win together!"
Ukraine's Deputy Interior Minister Yevhen Enin said on Tuesday that the country's military had also recaptured 50 other towns and villages in Kherson and freed some 3,500 citizens from Russian occupation. However, he did not specify the names of the liberated areas or the period of their recapture.
Russia has yet to acknowledge its losses in the Kherson region, but maps released by the Russian Defense Ministry showed that it no longer has control of the village of Dudchany on the western bank of the Dnipro River, as well as areas on the western bank of the Oskil River.
In addition to the newly liberated settlements in the Kherson region, the Ukrainian army recaptured two villages in Kharkiv on Tuesday, namely Bohuslavka and Borivska Andriivka, according to the Borivska Village Council Facebook page. On Monday, Ukraine also liberated the village of Borova in Kharkiv Oblast.
Last week Ukraine liberated six settlements — Yampil, Novoselivka, Shandryholove, Drobyshevo, Stavsky and the key town of Lyman — in Donestk after the Russian military withdrew troops from the area President Vladimir Putin "formally" annexed last week.
Ukraine's recent gains come as the war enters its eighth month. It's unclear how many military deaths Ukraine and Russia have experienced since February, as both countries have yet to release an official count.
Ukraine's Defense Ministry said Tuesday about 60,800 Russian soldiers were killed in the war. By comparison, Ukraine's Supreme Commander Valeriy Zaluzhniy said in August that nearly 9,000 Ukrainian soldiers were killed in action.
That International business hours could not independently verify the numbers.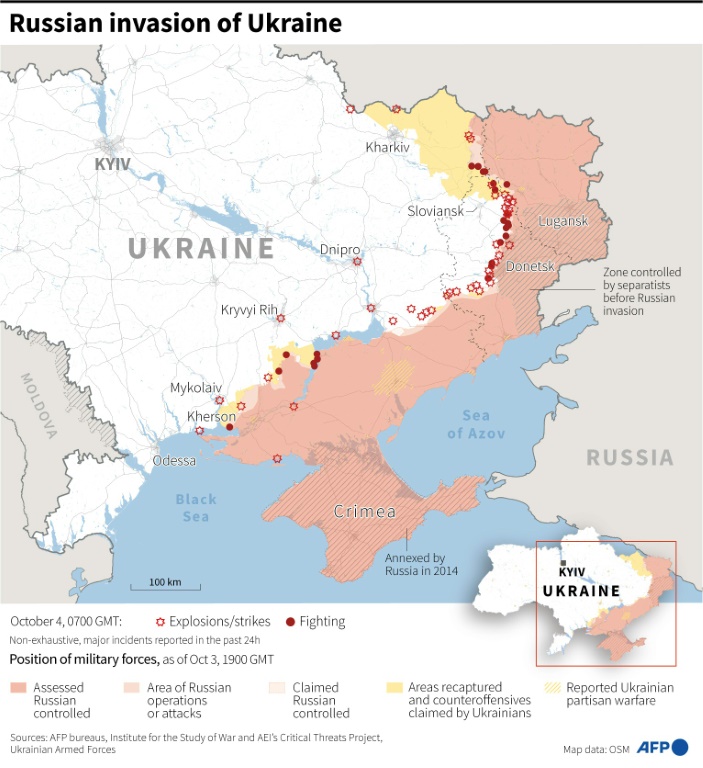 Related Articles
https://www.ibtimes.com.au/ukrainian-army-successfully-liberates-8-more-russian-settlements-kherson-oblast-1839210?utm_source=Public&utm_medium=Feed&utm_campaign=Distribution Ukrainian army successfully liberates 8 more Russian settlements in Kherson Oblast