News
Vogueing dancer stabbed to death at New York gas station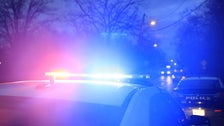 A gay professional dancer was then stabbed to death Vogueing with friends at a gas station in Brooklyn, New York, and raised concerns about one rise in violence against LGBTQ+ Americans.
O'Shae Sibley, a professional dancer and choreographer, was heading home with friends Saturday night after a trip to the New Jersey shore. The group stopped at the gas station around 11:00 p.m. and were playing Beyoncé's "Renaissance" album before another group of men approached them.
"These people said, 'We are Muslims, I don't want you to dance,'" said an employee at the gas station recalled to Gothamistadded, "The gays didn't try to fight."
The group began calling Sibley and his friends – who were shirtless and in bathing suits – slurs and gay slurs, telling them to stop dancing. according to the New York Times. Sibley began arguing with the men and was stabbed.
Otis Pena, one of his friends, tried to stop the bleeding before Sibley was taken to a local medical center, where he was pronounced dead.
"They killed O'Shae," Pena said a video posted on Facebook. "They killed my brother right before my eyes. I am covered in his blood."
"They murdered him because he was gay, because he stood up for his friends," he added.
Brad Hoylman-Sigal, a gay New York State Senator, said on Monday on Twitter He was "heartbroken and angry" when he learned of Sibley's death.
"Despite the best efforts of homophobes, gay rejoicing is not a crime," he wrote. "Hate-fueled attacks are."
Sibley, 28, was openly gay and had performed as part of an all-queer dance group at New York's Lincoln Center. He studied at the Philadelphia Dance Co. and had moved to New York just before the pandemic, according to the Times.
"It was a senseless crime," his aunt Tondra Sibley told the newspaper. "O'Shae has always been a peacemaker. He just wanted to dance."
A report of Anti-Defamation League and the advocacy group GLAAD documented hundreds of incidents of assault, vandalism or harassment against LGBTQ people, including mass murder, between June 2022 and April 2023, reflecting widespread bias. During about the same period, hundreds of transphobic bills were introduced or passed in Republican-led states.