News
Washington man who slowed traffic for passing deer fatally shot by 'frightened' driver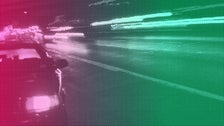 A Washington state man was fatally shot outside his home by a "terrified" driver after he slowed traffic to help deer pass, according to a police report.
Dan Spaeth, 37, stood outside his Snohomish County home with his wife on Sept. 7 to alert passing motorists that deer were crossing the road, according to a probable cause affidavit obtained from The Seattle Times.
Shortly before 8 p.m., Spaeth's wife called 911 and reported that her husband had been shot once by someone in a passing vehicle. His wife said the two were on their property when she heard a loud "bang" and turned around to see her husband lying in the street with a gunshot wound to the chest, the affidavit said. Spaeth died at the scene of the accident.
The next day, September 8, officers with the Snohomish County Sheriff's Office arrested 22-year-old Dylan Picard in connection with the shooting. The Washington Post reported on Friday. When a sergeant asked if Picard knew why he was being arrested, Picard reportedly told the officer, "I shot someone."
Picard later told investigators he saw Spaeth yelling at a passing vehicle and hitting the car with his hands. According to the affidavit, Picard became "scared" and reached for his loaded gun.
Picard allegedly fired a shot from his open passenger window to "scare the man and woman" but didn't know he had hit anyone. He is charged with second-degree murder.
A A GoFundMe has been set up "To help the Spaeth family during this very difficult time and the difficult times to come," said the organizer.