News
"We didn't do anything wrong": Trump raves about the "wise guy question" about the Georgia case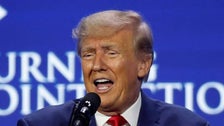 Former President Donald Trump reached out to a reporter with a "wise guy question" after he asked if he would accept a plea deal if charged in the Georgia election interference case.
In a comment to a reporter in Iowa, Trump said he will never "take a plea deal" as prosecutors are reportedly attempting to bring the case to a grand jury Tuesday.
"We haven't done anything wrong, we never cut a deal, we don't cut a deal. That's a smart question, you're a smart guy," Trump told the reporter as he exited Des Moines International Airport on Saturday.
"We don't do plea deals because I didn't do anything wrong, that's called election interference." You know what that is?"
Fulton County District Attorney Fani Willis (D) has investigated the former president and his allies for attempts to overturn the results of the state's 2020 presidential election.
An indictment by a Georgia grand jury could bring Trump a fourth indictment in 2023.
Trump's legal team filed a petition to thwart the Georgia investigation before the state Supreme Court dismissed the effort last month.
The former president also slammed Willis in a recent campaign ad, a move the prosecutor was told her staff to ignore last week.
Trump pointed the finger at President Joe Biden as the reason for this year's indictments on Saturday, before claiming the Democrat "can't even put two sentences together."
"This is Joe Biden because he can't win the election on his own, he can't win the election on votes, so they hired the attorney general to do that," Trump claimed, who then criticized the appointment of the special counsel in the Hunter Biden investigation of the Ministry of Justice.
Trump continues to lead his fellow candidates by double digits in nationwide polls for the Republican primary. according to FiveThirtyEight.