What we played | eurogamer.net
January 27, 2023
Hi! Welcome back to our regular feature where we write a little about some of the games we've been playing over the past few days. This time: JRPG heaven, beautiful days with pleasant tiles and the search for a good phone game.
If you're interested in catching up on some of the back issues of What We've Been Playing, our archive is here.
Chained echoes, switches
I'm in JRPG heaven at the moment – I'll share a bit more about that on the site over the weekend – and am currently in love with Chained Echoes, an outrageously ambitious twist on the '90s Squaresoft classics that packs so much more into it.
There's a story rich in political intrigue that would make Yasumi Matsuno proud, delicious artwork to get your heart pumping, and a combat system that keeps revealing new depths. I've only been at this four hours, but my head is already spinning at the brilliance of it all.
And amazingly, Chained Echoes is largely the work of a single developer, the talented – and I would imagine incredibly dedicated – Matthias Linda. I have a few long haul flights planned over the next few days, but I enjoy the hours in the air when I can spend them with Chained Echoes by my side.
Martin Robinson
Village Romance, Switch
If only every day felt as pleasant as in the village romance.
A few weeks ago, I was struggling through mud on my morning runs when the field I was doing my laps on became a veritable swamp. Then one morning the world froze and I had a brilliant run over crunchy grass and ice with that beautiful Cole Nebula bathing the low winter sun a warm orange. I knew it was going to be something special because on my warm up walk at the edge of the South Downs I looked up at one point and saw a fox stopped and was still in my path. We stared at each other for thirty seconds, then they bolted. Runs this time of year are amazing.
However, real winter – the days I love that are cold and clear and still – never seem to last long enough. You get plenty of wet winters and plenty of cloudy winters, but those bright, perfect days are spared. Thankfully, Village Romance has a winter biome that captures it just as well: the fields are an icy purple, the trees are a particularly cool green, and the villages are lined with snow.
In truth, this is the only biome I've ever used in this wonderful tactical puzzle game. In summer, in winter, no matter what the weather is like outside, I use village romance to give me a bit of coolness and clarity. What a game. Unfortunately no foxes.
Chris Donlan
Slice and Dice, Android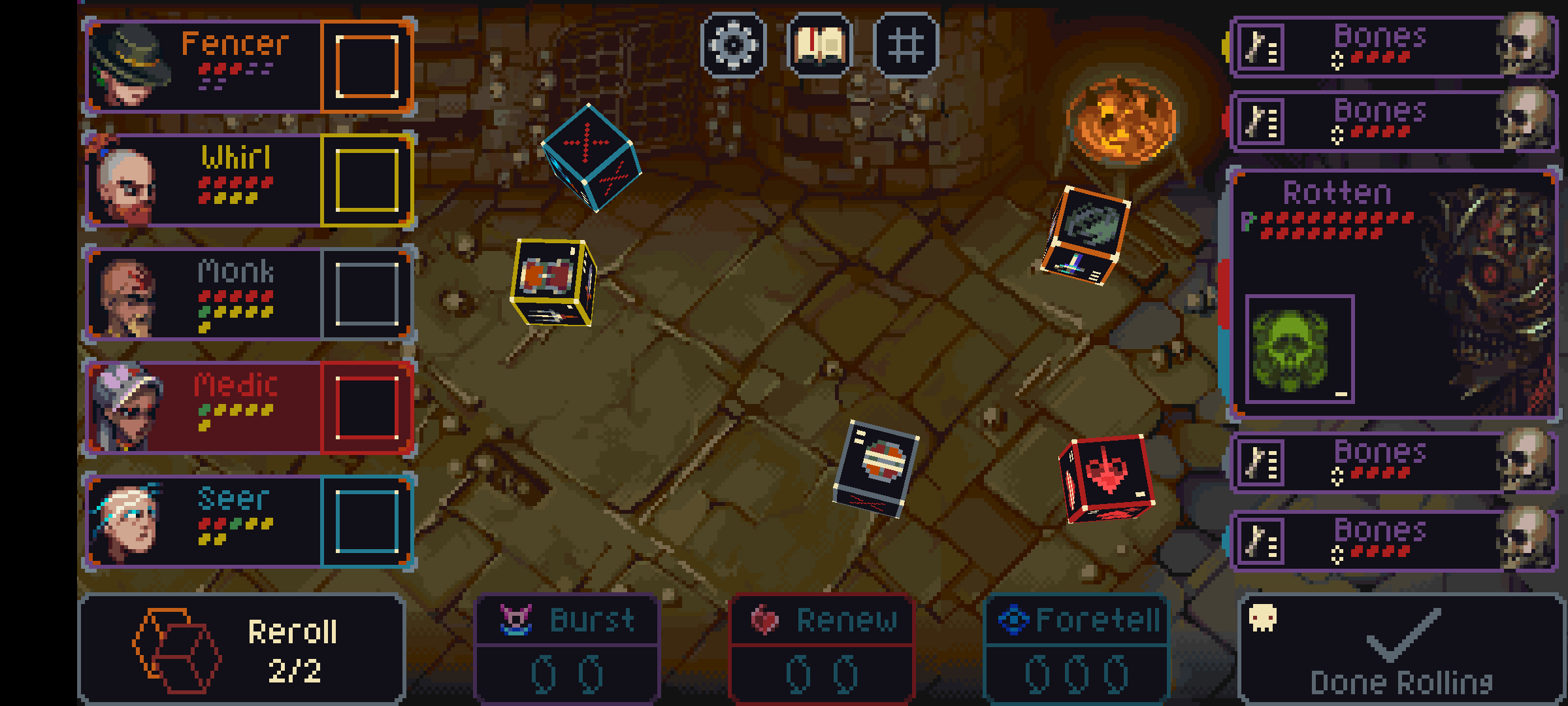 I'm trying to find a game to play on my phone. It's one of those areas I never look at for some reason – I bought a new phone last year and it's craving something. I neglected it. By the way, I welcome suggestions.
So I ended up trying something called Slice and Dice, a roguelike dice game – my favorite snacks. And what really impressed me is how easy it is to get in. Half an hour later I'm in it like I've played it for hours. I had to figure out a few things along the way, but I'm still on my original run, which means all of the learning happened as part of it. I never really felt like I was being handed a tutorial, apart from a few very basic things at the beginning. And I love that.
Tutorials bother me, mainly because they present an awkward learning phase at the beginning of a game where a game lays out how you have to enjoy it and it takes a while before you feel like you can do that. But I was right into this one without really knowing what to do.
Okay, it's a familiar setup: Roll a handful of dice and keep the ones that represent good abilities for your fantasy group and reroll the others. But the other part of it is design – or rather, the need for design. Phone games can't afford to hang around because they need to impress you quickly before you play anything else. The attention span here is short and the judgment instant, so they work hard to make sure you enjoy them right away. And I think bigger games – which take our attention for granted – can learn a lot from that.
-Bertie

To see this content, please enable targeting cookies.


https://www.eurogamer.net/what-weve-been-playing-93 What we played | eurogamer.net