News
William Barr points out what he finds "reprehensible" about ex-Chairman Trump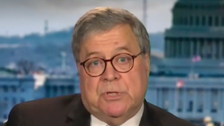 Former Attorney General William Barr slammed Donald Trump's "reprehensible" post-election behavior and dismissed critics' claims that the Justice Department was "kind of reprehensible" in its recent indictment of the former president.
Fox News' Martha MacCallum on Friday asked Barr to elaborate on his argument before pointing out his objection of an "attack of attacks" and claiming it was an "abuse" to bring the case.
″[That] It's a weapon, it's a crime against humanity and so on, and I think that's overkill," continued Barr, who also dismissed claims that the indictment violated Trump's First Amendment rights.
"I think it's a legitimate case from a legal point of view, responding to a very serious case of wrongdoing."
The former attorney general said the case was not election interference before blasting critics of the prosecution.
"I don't like all these over-the-top attacks because it's somehow reprehensible to bring about them. The behavior after the election was reprehensible." said Barr.
"And it is entirely to be expected that the Justice Department would act as it would with something that is under the United States fraud and obstruction laws."
At the beginning of the interview, Barr pointed out that all cases are at the discretion of the Attorney General, before claiming that there were matters where he would have seriously considered not starting the case.
He went on to compare the case's disagreement with "what will be accomplished from it" before turning to Hunter Biden's speech.
Several Republicans have claimed that the four criminal charges filed against Trump are a way to distract Americans from President Joe Biden's son, who faces federal gun and tax charges.
"And this is where you are aggressively targeting President Trump. I'm not saying it's unreasonable to bring the case, but I'm saying it's an aggressive move as opposed to a very lenient treatment of Hunter Biden, and I think that's very divisive in the country," Barr said.