Women's Super League: what we learned from the first weekend as Chelsea and Man City lose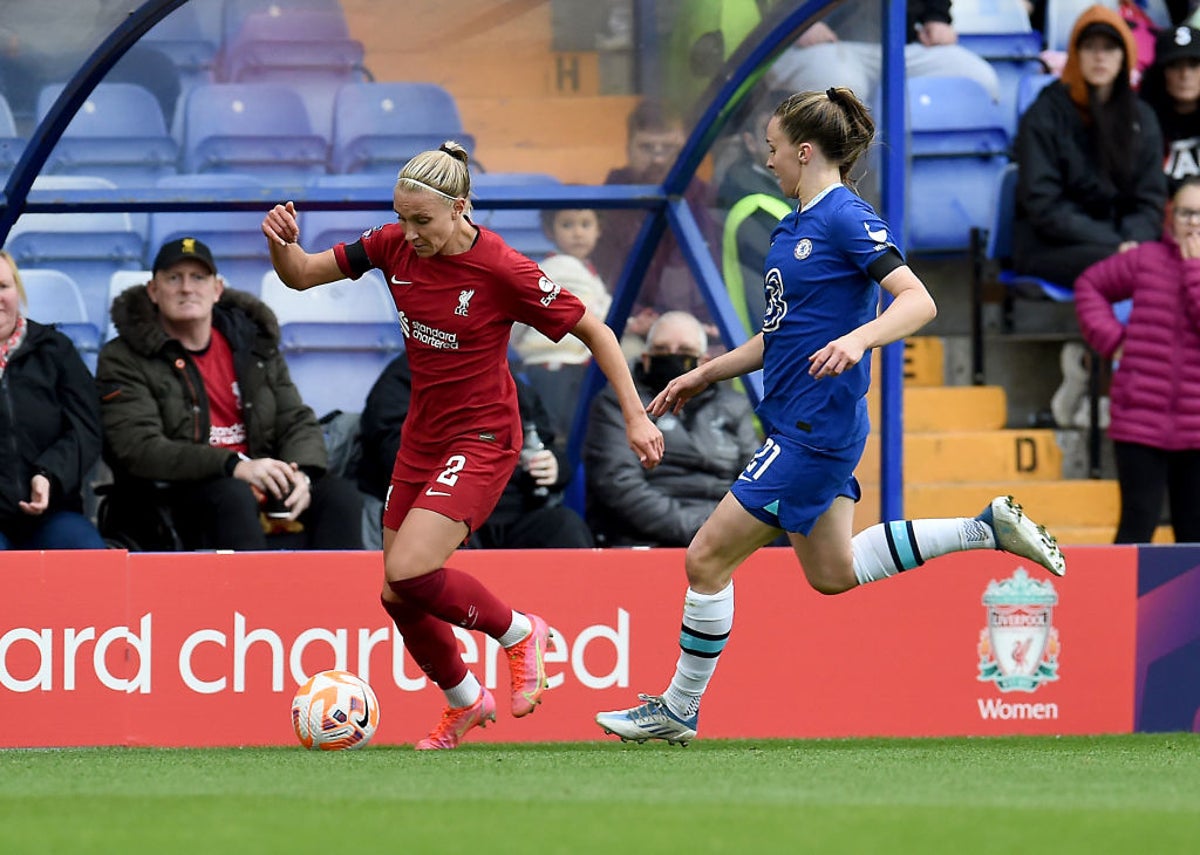 The Women's Super League is back and fans enjoyed an exciting weekend with two particularly surprising results.
Defending champions Chelsea lost 2-1 to newly promoted Liverpool and Manchester City lost to Aston Villa for the first time in the league.
Although the two giants of English football are not collecting points, there are still familiar faces at the top of the table.
Arsenal and Manchester United are joint leaders after both won their opening games 4-0. But the unexpected turn of events has already torn the league wide open.
Here are five things we learned:
Man City are feeling Walsh's absence
England's Keira Walsh was among a string of stars to leave Manchester City this summer but she is arguably their biggest loss. The defensive midfielder, who won Euro 2022 with England in July, is currently one of the best players in the world.
She left City for Barcelona for a record fee in women's football. It was clear the English club didn't want to lose her and turned down an initial offer, but Walsh reportedly made it clear she wanted a new challenge and was reluctantly allowed to go to Catalonia.
Manager Gareth Taylor had dampened fans' expectations ahead of the Aston Villa clash, saying the team needed time to adjust to new signings. But nobody expected the result that came. A 4-3 loss handed City their first league opener defeat since 2014 and Walsh's absence was felt immediately.
The holes and space in midfield allowed Villa to encircle the visitors and commentator Fara Williams noted she had never seen a City side give away as much possession as they did on Sunday. When Walsh was at the club, she pulled the strings and turned off attacking options. Villa played well and likely would have scored multiple times even had the England star played, particularly with their signing Rachel Daly proving life-threatening, but after City fought back to lead 3-2 they would have of their nous can benefit in order to retain this advantage.
There's a Walsh-shaped hole in their midfield and they'll need to fill it sharply if they're going to be in contention for the title this season.
Liverpool made their mark early on
Matt Beard's Liverpool left Chelsea in shock with a 2-1 win on Sunday to anger the holders. It was the first WSL match to result in three penalties, with Katie Stengel scoring twice from the penalty spot to give the Reds a fairytale return to the top flight.
Liverpool were promoted to the WSL after winning the Championship last season and were expected to suffer a heavy defeat against the Blues. But superior defensive performance combined with penalty opportunism after being 1-0 down after just three minutes earned them well-deserved three points.
Many would think Liverpool's aim would be to avoid relegation this season, but the result set an early milestone. Player of the Match Stengel said: "It's stupid to ever say you just want to stay in the league. We're here to compete, we're not just here to survive. let's run away We're in the league to win every game. We won't go into a game just to be here and be happy."
Neville deserves England shot
Tottenham's Ashleigh Neville impressed in the league last season, leading to many fans clamoring for the defender to be included in the England squad despite still awaiting her first cap.
Some players would allow the rejection to affect their game, but instead Neville has continued on her good form. She scored the goal of the round against Leicester City on Sunday with a worldie from a 40-yard screamer. After spotting goalkeeper Kirstie Levell from her line, she thundered the ball towards goal, rattling the back of the net.
She will hope England coach Sarina Wiegman was watching; There's not much more the 29-year-old can do to demonstrate why she should be getting a call.
VAR will once again be at the center of the discussion
VAR may have been introduced to men's football in 2019, but the women's domestic competitions don't have it in their games. It was a talking point last season, with offside calls and ghost goals with many including Chelsea manager Emma Hayes urging the WSL to bring it up.
Technology will be the talk of the town again this season, particularly with two calls from officials proving to be particularly controversial. The first was Brighton's Emma Kullberg's red card against Arsenal on Friday night. Kullberg attacked Stina Blackstenius on the edge of the box and was sent off just seven minutes later – the Gunners won 4-0. However, Blackstenius was offside when receiving the ball.
Brighton have appealed to the Football Association, with Kullberg telling Fotbollskanalen: "It's up to the FA now. I hope they watch the clips again and see that they made a wrong decision. In the best-case scenario, they take my red card back."
The other decision under scrutiny was a Chelsea goal ticked off due to the offside flag against Sam Kerr. The Australia captain was played through and found the net but the flag went up to prevent her from doubling Chelsea's lead. Both commentators and fans were unconvinced by the call, with many arguing that the goal should have stood.
Euro influence evident
The impact of the European Championship, particularly England's Cup win, was clearly visible over the summer as clubs reported record season ticket sales. But it was particularly highlighted during the opening weekend with record attendances at most games.
Arsenal's Meadow Park was packed and Liverpool's Prenton Park saw 3,006 fans witness their impressive win.
The WSL is growing and the exciting football will only benefit it.
https://www.independent.co.uk/sport/football/womens-super-league-chelsea-man-city-liverpool-b2170204.html Women's Super League: what we learned from the first weekend as Chelsea and Man City lose