World Cup 2022: Participants still have to support PayUpFifa campaign to compensate migrant workers in Qatar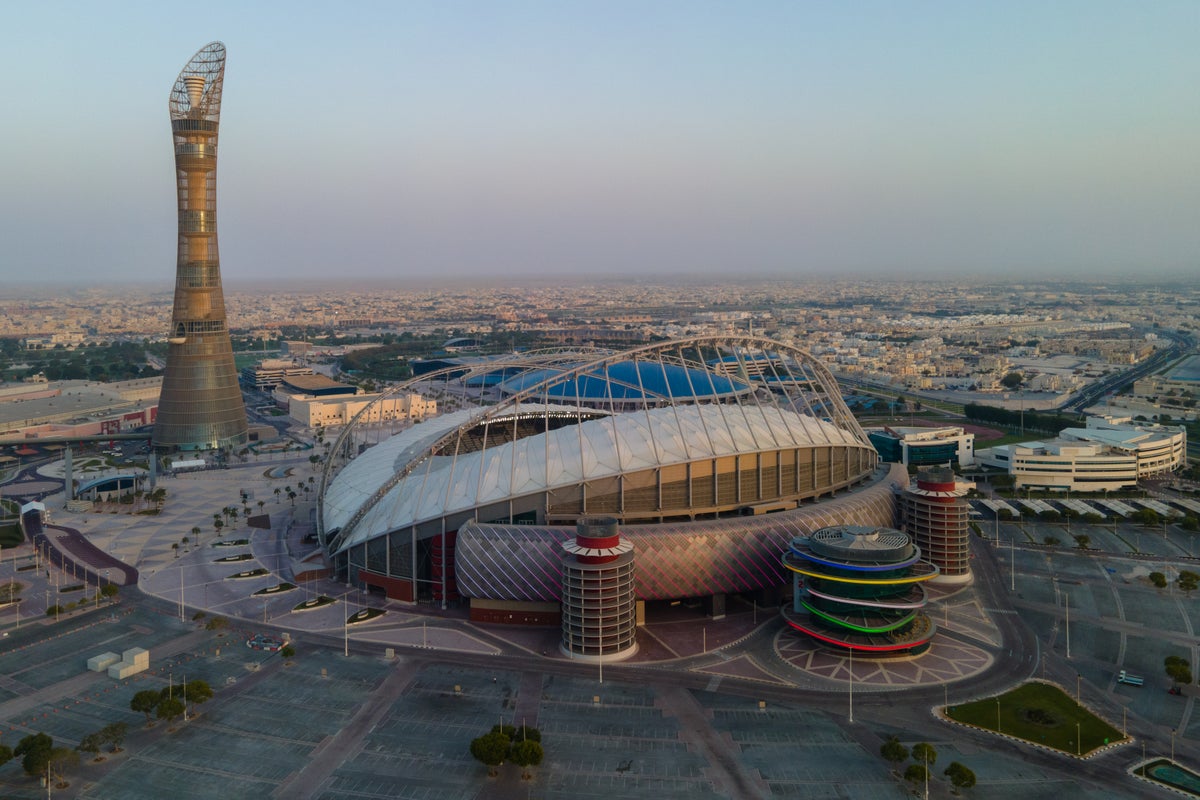 With less than 100 days to go before the World Cup, none of the 31 qualifying federations have endorsed the PayUpFifa campaign, leading to criticism from human rights groups that the game evades its "accountability" as part of mere "checkbox exercises". The initiative is a collective call from these bodies for Fifa to match the £360m Qatar 2022 prize purse with compensation for migrant workers who suffered human rights abuses in the preparations for the tournament.
In addition, just over a third of the qualifying nations have conducted appropriate consultations with human rights groups on this World Cup, and only four of them have allowed such bodies to speak directly to players.
The positions raise questions about how seriously football takes such concerns ahead of one of the most controversial sporting events in history, despite so many platitudes and amid a situation where migrant workers are still denied their most basic rights.
While it is widely accepted that it would be unfair to require players to boycott a rare opportunity at a World Cup for decisions they had nothing to do with, compensation is a reasonable expectation that they should capitalize on their considerable profile, to provoke change. There's a growing sense of being wasted.
"Workers and their families cannot afford to wait while professional organizations waste more time coordinating their messages," says Amnesty International.
It speaks volumes, in the words of Fair Square's Nick McGeehan, that it is now more than 4,000 days since Qatar were awarded the World Cup, less than 100 days to go and "the system of work in practice is not much better for migrant workers". While Amnesty and some other groups would recognize that progress has been made towards the abolition of kafala, the action they are consequently seeking support for is implementation and remedial action.
The Independent then sent a short survey to all 31 qualifying associations, with the exception of the hosts.
The questions were as follows:
1. Does the association have human rights concerns related to its participation in Qatar 2022?
2. Has the association spoken directly to independent human rights groups such as Amnesty?
3. Has the federation consulted independent human rights groups to speak to its players and football staff about issues in Qatar?
4. Does the association plan to support or comment on the #payupFifa campaign launched by all major labor and human rights organisations?
5. What work has the association done on human rights issues?
Only 14 associations confirmed the email, but only eight of them provided adequate answers to questions. They were Australia, Denmark, England, France, Germany, Netherlands, Portugal, Switzerland and Spain.
Of these, seven raised direct concerns about their human rights problems in Qatar, although it is separately known that Belgium, Croatia and the US have passed on their problems with the hosts elsewhere. Australia, Belgium, Denmark and Germany have meanwhile invited human rights groups such as Amnesty to speak directly to their players. Others such as England, the Netherlands, Portugal and Switzerland have had further talks with such bodies but are yet to prioritize one over the other to speak to squads. They all have distilled human rights briefings for their players.
For their part, the associations of England, Denmark, Germany, the Netherlands, Portugal, Switzerland and Australia presented their current positions in a clear and differentiated manner. The general view among European qualifiers, guided by Uefa and their ongoing working groups on Qatar, is that they want to come together on a collective declaration that will have "global impact".
This has left human rights groups frustrated with so little time left, with a lingering sense that the associations are hiding behind the working groups rather than being meaningfully engaged.
Isobel Archer from the Business and Human Rights Resource Center said: "We recognize the efforts of Fifa, the World Cup organizers and the ILO [International Labour Organisation] to work with football associations on human rights before November, but this tournament belongs to all stakeholders – football associations in particular – who must take individual responsibility for the impact of their engagement.
"Human rights accountability is not a checkbox exercise and it certainly should not be outsourced to others. FAs need to take ownership of this process – engaging fully with hotels and other service providers to set out their expectations of how workers should be treated, reporting transparently on risks and making a clear commitment to taking action to remedy violations if any appear."
Representatives of both the associations and Uefa firmly reject such assessments and emphasize that "the wheels are in motion" for a strong collective message. The explanation is that they want to make sure the initiative is absolutely right, with real authority and not – in the words of one source – "just wearing a t-shirt".
A growing argument from activists is that when hundreds of thousands of workers have been denied their most basic rights, it is absurd for officials to try to find the right words.
"The message is clear," adds Amnesty International. "Associations around the world must unequivocally urge FIFA and Qatar to urgently commit to a recovery program so that those who made this tournament possible are not forgotten.
"The important legal reforms that Qatar has recently implemented cannot erase the many years of severe labor abuse endured by thousands of migrant workers when steps were not taken to protect them."
McGeehan agrees: "Whatever people say about the progress made on labor reforms, no one credibly denies that this World Cup has come at a tremendous cost in the form of serious abuse and many preventable deaths. But despite this being well documented by the world's most credible rights groups and despite concerns from various groups of players, the federations who will benefit massively from this tournament cannot even bring themselves to support claims for compensation from people who lost so much and all suffered a lot to make this tournament possible."
Human rights activists see the complete lack of support for the PayUpFifa campaign as all the more wasteful and woefully ironic given that it was a rare moment when the various groups came out for a clear and unified message, and that after some of the federations told them so had was what they had to do. It was felt that this solved the problem of too many competing priorities only to be met with silence.
Bodies like Amnesty and Fair Square believe that compensation could, to some extent, actually redeem this World Cup, as it will have a tangible positive impact on the lives of migrant workers.
Some associations such as Belgium, Denmark, Germany and the Netherlands have at least expressed their support for the campaign's sentiment, without confirming their support so far.
Spain was now one of three associations, along with France and Poland, that did not refer directly to Qatar in their answers. The federation of the 2010 champions instead cited initiatives surrounding the transfer of the Spanish Super Cup to Saudi Arabia as a testament to its commitment to human rights, despite the widespread criticism that decision drew.
"As you know, the RFEF's social program is extensive and firmly in defense of human rights," reads the reply. "The proof of this is the contract that provides for social measures in Saudi Arabia so that our Super Cup can be brought there from Europe." Among them were calls for a women's league and for women to be able to attend the games.
Spain, France and Switzerland similarly appealed to the idea of ​​taking their lead from the ultimate organizers of the competition, Fifa. However, this raises another area of ​​discussion.
The idealistic view is that Fifa would use its considerable influence to demand change in Qatar, especially since the current hierarchy wants to point out that they inherited this World Cup from the old Sepp Blatter regime.
Instead, working class groups are seeing increasing alignment between Fifa and Qatar on certain issues. Human rights bodies, meanwhile, remain shocked by Fifa President Gianni Infantino's claim to the European Parliament that there were only three worker fatalities in the construction of the World Cup stadiums.
A fair question is how can the game ever hope to make any kind of change in Qatar or "use the tournament for good" as they have touted when the sport's most senior figure has such a profound misunderstanding of the reality of reveals the situation.
Current realities impose themselves on the structure in other ways as well.
Qatar has invested billions in the state infrastructure of many qualifiers, from Senegal to Spain to France, and thus inhibited the potential for criticism. All of this is happening amid a global energy crisis that has made many politicians even less inclined to criticize one of the world's top oil exporters. The belief among senior footballers is that this public debate about the tournament, which would normally be building now, is being severely watered down.
It was noted that Qataris have become "increasingly optimistic" in the last year. That was evident in some of the comments surrounding the April draw, not least a comment from Qatar 2022 chief executive Nasser Al Khater that Gareth Southgate should "choose his words carefully" after the England manager raised concerns about migrant workers had expressed and gays attending the tournament.
The situation is all the more deplorable given that some players are genuinely interested in doing something. After a federation meeting, some stayed behind to ask for more information.
Some federations have tried to protect their teams from this, believing they shouldn't be asking questions about important issues that weren't their decisions.
It's just that the players will be the focus. They will be the ones who take responsibility.
https://www.independent.co.uk/sport/football/world-cup-qatar-2022-payupfifa-human-rights-b2149963.html World Cup 2022: Participants still have to support PayUpFifa campaign to compensate migrant workers in Qatar